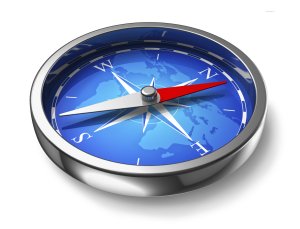 Put me inside the Louvre or any other large building and I will effortlessly find my way around.
However, I lose this ability completely in the outside world.
For example, on a trip to Spain, we were driving back from the Alhambra to Torremolinos in the evening which is in a decidely south-westerly direction. We came to a crossroads in the countryside and I thought that we should turn left – which I was sure would get us heading west. Ros disagreed and we sat and argued about which way was what until she simply said, "Since when the sun set in the south?".
OK, this girl has a compass inside her head and can tell you which way is north while standing in a cave a hundred feet below the surface, a feat not many share.
But Ros isn't always there to point me in the right direction. So I got a Portable GPS . This amazing device knows where I want to go and through maps and voice instruction guides the way.
On a recent trip to the Kootenays it announced turns and exits flawlessly and delievered us right to the resort entrance.
I can now sit back and enjoy the drive as my space age GPS navigator takes care of finding the way… with no more carping or peals of laughter from Ros when I mistakenly turn back in the direction from which we came. 🙂

M3 3.5″" Portable GPS
List Price: $119.99
Price: $119.99
M3 – 3.5″" Navigation System
3.5 inches touch screen display
Built-in speaker
Voice-guided directions with Turn by Turn voice prompts
Preloaded 50 U.S. states map (in 2 GB SD card)
1.6 million points of interest
Address book can store up to 300 addressesInstant route recalculation
Text to Speech: (TTS) – Clearly pronounces instructions with street names – English)
SD card slot for added memory
MP3 playing & JPEG viewing mode 2D or 3D map viewing modes
Day and Night modes – (Night mode features additional light on the screen for easier viewing)
Built-in rechargeable Li-Ion batteryComes with manufacturer's 1-year limited warranty
Brand: Nextar
Availability: YES