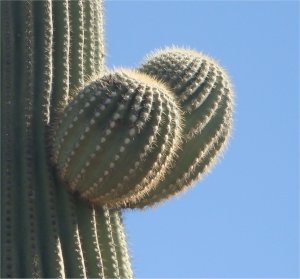 We stayed at Catalina State Park in Tucson, Arizona, last year in January, and enjoyed our stay so much that we decided to return again this year.
Here is a list of 17 things that I love about Catalina State Park.
The campground is on the west-north-west side of the stunningly beautiful Catalina Mountains.
To the north of the campgrounds, the hills are covered with different types of cacti. Catalina State Park has the largest collection of saguaro cacti in the world numbering over 5000. Some have VERY interesting shape /protrusions. (See picture top right.)
Birds abound. I've seen finches, owls, woodpeckers and so many other types of birds with which I am not familiar.
The campground is located in a pretty mesquite forest.
Campsites are nicely spaced. At the current campsite we have at least 60 feet of space on both sides of our RV, buffered with trees.
The hiking is superb with wide, nicely packed trails. The cottonwood Trail which is about 2 miles in length crosses streams which the dogs enjoy.
The showers in the Loop B campground are wonderful – nice and hot. (Loop A showers leave something to be desired. They only run for approximately 30 seconds and then you need to hit the button to start up the water again and the water pressure is so forceful that it's like driving a motorcycle in the rain without wearing a visor. Owwwwww!)
Despite being a very busy park it's quiet.
Not 5 min. away is the oral Valley marketplace where you can go and see movies, eat at Red Lobster or the Olive Garden, or shop at Walmart for groceries. There are also sport stores and one of my personal favorites, World Marketplace.
There are no stupid rules at this park.
Dogs are allowed on trails as long as they are on a leash.
Campers are allowed to hang birdfeeders.
Campers are allowed to hang laundry.
Good musicians don't get shut down like they did at Joshua Tree National Park. (There's an awesome banjo player here at the moment.)
Non-electric sites are allowed to run generators at any time between 8 AM and 8 PM.
It is relatively cheap. Nonelectric sites are $15 per night and electric sites are $25 per night.
The sunsets are splendiferous.
We will be returning to spend another two weeks at Catalina State Park prior to returning back to Canada in April. My guess is that I will find a number of items to add to this list during that next stay.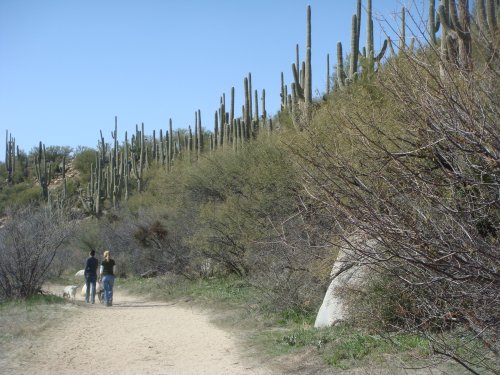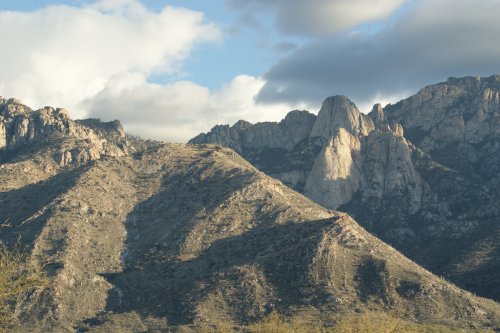 Note: This entire blog post was dictated using Dragon Naturally Speaking software. I may never type again!