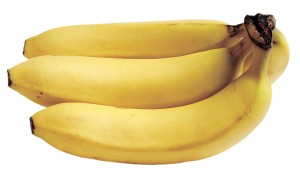 This has been bugging me since it happened yesterday.
I arrived at the checkout till at my local supermarket with a cart full of goodies for my planned detox diet. You know, good stuff. Fruits, veggies, and whole grains.
Ahead of me was an old fellow with his (purchased re-usable) bag and only 3 bananas on the belt.
"90 cents", the clerk told him.
"90 cents?", he asks. "I weighed them and it should only be 75 cents".
"Nope, 90 cents" the clerk re-asserts.
He thanks them and leaves WITHOUT his bananas.
During their exchange, I rummaged in my pockets and couldn't come up with any change.
Then I'm thinking that this is unbelievable. We're all freakin' neighbours, the clerks, the man and I
He's buying FOOD and for the sake of 15 cents they're going to let him walk out? I wasn't overly familiar with the clerks on duty or I would have said something…
Feeling like I had no recourse, I just about burst into tears.
Then, after realizing that I had 8 bananas in my cart, I hardly had time for the usual pleasantries with the clerk as she checked my items through. When done, I literally RAN outside with my 4 bags of goodies and luckily saw the man just approaching the edge of the parking lot.
Reaching him, I told him that I had too many bananas and asked if would he like some?
He asked me "How much" and I replied "nothing", reiterating that I had too many.
He took them, was grateful and we went on our separate ways.
OK, this isn't about me or my 90 cent "good deed".

It's about the fact that I am often completely flabbergasted by the lack of compassion in this world.
What the hell is wrong with people? Where the hell is their compassion?
I must admit that strong sentiment may be exacerbated by watching way too much American news about the debt crisis of late, and the fact that there are a whole slew of stupid (Tea Party) Republicans who would rather throw social security, medicare, medicaid and veteran's assistance recipients under the bus before agreeing to increase taxes on oil companies and the very rich.
That thought alone makes me crazy. What the hell is the point of enjoying a slew of riches (inconceivable thoughout most of the rest of the world) if you can't share what you have with others?
And yet here I was, in my own socially democratic country (which has excelled splendidly economically-speaking despite the American-induced worldwide recession) and watching employees of an IGA deny an obviously wanting pensioner good food.
No surprise to discover that IGA is an American owned grocery store chain.
American or Canadian, I can't fathom that there are people in our country who would deny a pensioner FOOD for the sake of 15 freaking cents.