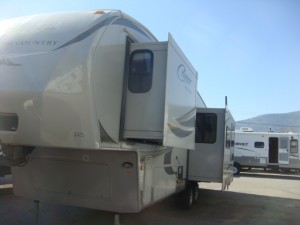 I think I'm still in shock.
Yesterday I bought another RV.
That wouldn't seem so absurd, until you realize that it's our 3rd RV in under 2 years.
We started with the T@B which we positively LOVED.
But then we got Jasper – our chocolate Labrador puppy – and moved up to a 23 foot Trail Cruiser.
Well, my puppy (which was supposedly the runt of the litter) has grown into a MASSIVE dog in the space of a few short months.
Well, our last 10-day trip in the Trail Cruiser proved that I didn't want to have to say "Excuse Me" a thousand times a day all this winter, so we went off in search of a new RV.
Here are pictures of the Cougar High Country bunkhouse 5th wheel that we chose. (Yee-ha! A room for me and Jasper and a room for Ed, PLUS a common living space).
I'm thrilled!