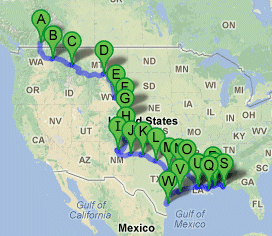 We traveled 4,065 miles southbound and 3,757 miles northbound for a total of 7,822 miles last winter.
Our main stops are shown in the list below. I've linked to posts that I wrote enroute and there will likely be a few more coming as I 'digest' all that we saw and did on the trip.
Penticton, B.C., Canada
Spokane, Washington
Billings, Montana (pictures)
Casper, Wyoming
Strasburg, Colorado
Cherry Creek State Park, Denver, Colorado (Denver pictures)
Trinidad Lake State Park, Trinidad, Colorado (Pictures)
Santa Fe, New Mexico (pictures)
Tucumcari, New Mexico
Palo Duro Canyon State Park, Amarillo, Texas
Vernon, Texas
Cedar Hill State Park, Cedar Hill, Texas (Pics – Cedar Hill, Dallas)
Tyler State Park, Tyler, Texas (pics)
Shreveport, Louisiana (pics)
Lafayette, Louisiana
New Orleans, Louisiana (pictures)
Hattiesburg, Mississippi
Biloxi, Mississippi
Lafayette, Louisiana (Swamp tour pics)
League City (Houston), Texas (Space Center pics)
Galveston, Texas (pics)
Mustang Island State Park, Corpus Christi, Texas (pics)
Del Rio, Texas
Marathon, Texas
Big Bend National Park, Texas (pics)
Alpine, Texas
Brantley Lake State Park, Carlsbad, New Mexico (Carlsbad Caverns pics)
Roswell, New Mexico
Alamagordo, New Mexico (White Sands Nat'l Monument pics)
Kartchner State Park, Benson, Arizona
Catalina State Park, Oro Valley, Arizona
McDowell Mountain Regional Park, Fountain Hills, Arizona (pics)
Organ Pipe National Park, Ajo, Arizona
Catalina State Park, Tucson, Arizona (pics)
Lake Havasu State Park, Arizona (pics)
Las Vegas, Nevada (pics)
Valley of Fire State Park, Overton, Nevada (pics)
Beaver, Utah
Antelope Island State Park, North Davis, Utah (pics)
Dillon, Montana
Spokane, Washington
Steamboat Rock State Park, Electric City, Washington (pics)
Penticton, BC, Canada
Here are links to see our southbound and northbound routing maps.