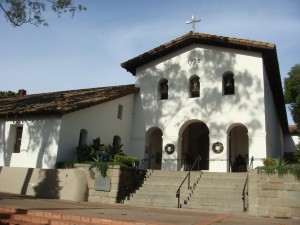 Not sure why or when the Mission in San Luis Obispo hit my bucket list, (a movie perhaps?) but it did and now I get to scratch it off.
We spent a few hours on the morning of December 26th, 2010 visiting the Mission Church, its Museum and walking around the Plaza.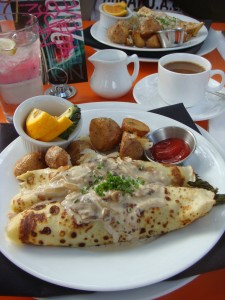 The Mission San Luis Obispo de Tolosa was the fifth California mission founded by Father Junipero Serra, Sept. 1, 1772 and the present building dates back to 1793-1794.
As the parish currently serves about 2,200 families, it was no surprise that a baptism was just about to get underway when we visited the Church itself.
After the Mission visit, we happened on the NOVO restaurant, where we dined al fresco creekside on savory crepes stuffed with aspargus and crab and topped with a delicious mushroom sauce. Excellent choice. SO Yum!
Time for a little shopping after lunch and we happened on Bambu Batu, where Ed picked up a crazy orange t-shirt and I got a lovely little blue dress.
We had just a taste of San Luis Obispo, but sufficient enough to know that we both would love to return. Quaint, warm and steeped in history. Wonderful!