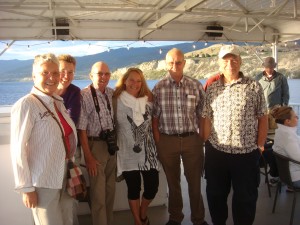 Hard to believe, but I've actually felt relaxed for the past week.
Reason?
Also hard to believe.
Had the relatives from Holland staying here for 5 days. (If you're not Dutch, you have to realize that Dutch-clean is a saying because it's true… they arrive with special sets of white gloves. 🙂 )
OK, granted, we went completely f'n nuts cleaning, renovating and landscaping for 2 months prior to their arrival and I could have killed Daan when he said 'that needs painting' (referring to the chimney base visible from the kitchen skylight, on the 1st day.
But other than that, their visit was simply fabulous – a REAL vacation not only for them but for us. Here are a few of the things we did during their stay:
Hiked up to Munson Mountain
Drove up the Naramata Road
Visited the Red Rooster and Elephant Island wineries
Walked around Naramata
Did a dinner cruise on the Casabella Princess
Breakfast at the Elite Restaurant (circa 1927)
Saturday morning farmers market
Hike to the Little Tunnel on the KVR from Smethurst Road
Played golf at Sumac Ridge
Visited the Sumac Ridge winery
Daan and Ed went target shooting at the range
Walked along the south Okanagan Lake boardwalk and Kiwanis pier
Visited the Japanese garden
Circle tour of Skaha Lake
Did the Vaseux Lake Boardwalk
Did some hot-tubbing (or tubeing as Gerrie would say)
Did some swimming
Played pool
Played with Jasper (lots) and laughed even more
Took Jasper to the doggy beach in Okanagan Falls
Visited the Dominion Astrophysical Observatory
Stopped by Twin Lakes golf course for a drink
Gambled at the Lakeside Casino
Watched Gerrit and Daan fix my sagging back door. 🙂
and last but not least, had a real Canadian evening watching Game 6 of the Stanley Cup playoffs.
Awesome, AWESOME vacation!!!

See the pictures on Flickr here.