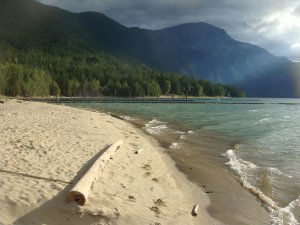 After getting the new inverter and solar panels on our 5th wheel installed, we decided the best place to test the system out would be at McDonald Creek Provincial Park in British Columbia's West Kootenays.
If you've done any camping in B.C.'s interior provincial parks, you know that means NO hook-ups — no electricity, water or sewer — at the site.
At McDonald Creek they go that 'extra mile' and don't offer a sani-dump or water fill ups. You're supposed to go to Nakusp (16 kilometers away) to fill up with water before you get there – and be very careful with the water you do use, 'cause you don't want to make a mid-stay trip into the sani-dump in town.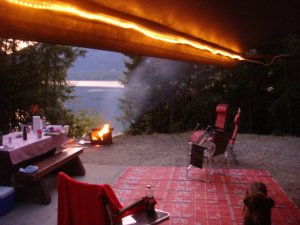 What you do get is an enormously beautiful, almost private, site in the trees with a fire pit and a really skookum picnic table on a cement pad.
Better yet, our site was right on the Arrow Lake beach at the far north end of the park, so it was pretty darned quiet in terms of passing cars.
The camping part of the park is about 1 kilometer long, so it's good to have a bike to ride up and down to chat with other campers, or to get water.
There's 6 kms of beach (east and west sides of the lake combined) to walk.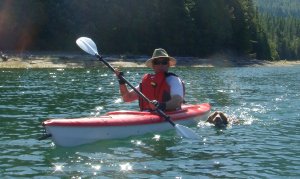 You gotta love Canada. We unloaded the kayaks, toted them down to the beach and just left them there for the whole week. No need to lock 'em up at all.
We spent a LOT of time down at the beach, swimming, kayaking, reading and throwing balls into the lake for Jasper to fetch.
Jasper was hilarious when it came to the kayaks. If we went out, he had to come as well, so that entailed a lot of swimming for the dear dog. He finally figured out that he could actually run along the beach to keep up with us. That was particularly fortunate, because having a howling dog swimming behind your kayak can get to be a bit unnerving. WISH I had video.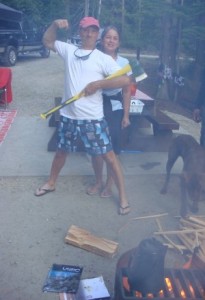 Our good friends Mike and Marina from Genelle joined us over the weekend and shared their stories of having canoed the Bowron Lakes circuit this summer. Then Marina found out that kayaking is a different game entirely – especially in a rudderless boat. Then again, she got to see much more of Arrow Lake than I did when we paddled to the other side. 🙂 Mike proved his prowess with an ax and wet wood by building an awesome fire, when no one else could master the challenge.
We tripped into Nakusp a few times for supplies and to eat out.
I am SO impressed with the improvements that little town has made since I first visited it more than 20 years ago. The lakeside walk is gorgeous, the Saturday farmer's market has lots to offer and the restaurants at which we ate (the Leland and the Three Lions) had really good food!
We also spent a relaxing morning at the Nakusp Hot Springs, which was quite a treat considering I blew my hip out on Day 4 of the trip and was craving some heat therapy.
As for the solar system. That was a bust. It was wired incorrectly by our local RV shop (at which we dropped nearly 4 G's for the system and a few other items), so the best we could manage on our battery power on any given day was watch one episode of Dexter: The Fifth Season
, which we'd picked up from Amazon just before we left.
So, other than that, for entertainment, I caught up on my reading and playing FreeCell on my iPad. 🙂