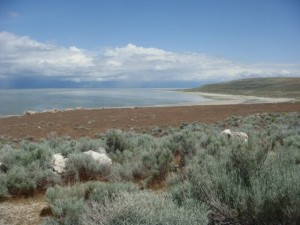 The sign that greeted our arrival at the entrance to Antelope Island State Park near Layton, Utah was "the biting gnats are bad".
Equipped with various forms of deet, we were not to be deterred from visiting. After a month on the road, we were ready for a 'real vacation' — time to kick back, walk, hike, play in the water, read a book and do a little writing.
I absolutely love wide open quiet spaces where the vistas are unobstructed by man made objects and lights that spoil the night sky. But for a few times when Salt Lake's City's airport departure path was directly over the island and/or 'looky-loo's' were doing the slow drive around the campground, we had perfect peace and quiet.
Tne views are incredible. Looking across the wide salt flats of Great Salt Lake, you can see snow-capped mountain peaks in the distance to the west. Driving down towards the ranch near the south end of the island, affords an incredible view of Salt Lake City framed by the Wasatch mountains.
Look carefully and you'll see bison, antelope, jack rabbits and yes, gnats.
The sign was right — when there was no strong breeze, the biting gnats were crazy-making. Not only that, but they forgot to mention the mosquitoes. Other than those minor nuisances, Antelope Island State Park on Great Salt Lake is almost heavenly.
Antelope Island is about an hour north of Salt Lake City, Utah. Take I-15 north to Antelope Drive, from which the park campground entrance is about 7 miles. From there it's another 7 miles across the causeway. Don't forget to fill your camper up with potable water before coming to the park. There are no hookups.