Afer the never-ending flat dryness of the Texas Panhandle, Ed and I had our spirits lifted as we traveled farther east into Texas.
The trees get bigger.
Oh wait, first of all, there ARE trees.
Then, as you travel east, they get taller.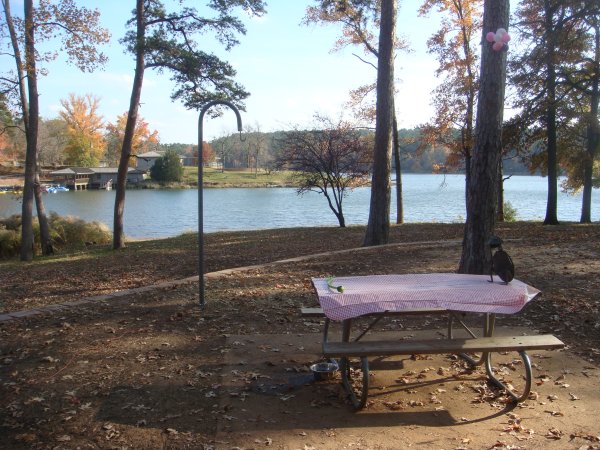 On arriving at Tyler State Park, we both had the same reaction – the place felt like home, i.e. as in southern Ontario 'home' where we both grew up.
So nice in fact, that I immediately opted to add a night to our stay.
The forest is an oak savannah which is in fact what southern Ontario (in and around Toronto) used to be before most of the oak was harvested.
When we were there (in November), many of the leaves on the deciduous trees remained, displaying lovely dark red colours. Granted, not the brilliant reds that we would see on the maples farther north, but red none-the-less, in stark contrast to a complete lack of red fall colours in natural environments in British Columbia.
Tyler Lake itself is fairly small. It takes less than an hour to walk around the entire lake on the lovely trail that surrounds it.
If you're planning to camp there, ask for a spot in the Lake View loop. We lucked out with Campsite #34, the best site ever – which is right on the lake and has an abundance of land attached to it. We could throw the ball for Jasper (using a Chuck-it) from our chairs by the fire ring and hit the lake. Doesn't take too much of that to tire him out – maybe only an hour or so. 🙂
If you like having campfires, wood is relatively inexpensive, either the hardwood up at the corner store by the lights near the entrance or 3 pieces of softwood for a buck at the host site within the loop.
Set a considerable distance from the regional road and miles away from Highway 20, the campground is almost silent unless the wind picks up noise from either road.
By the way, there are raccoons all over the park. Jasper treed 3 of them. Fortunately, he's a good boy and comes back when he's called. Sadly, we met a woman whose dog went missing in that forest.
So… don't leave your dog off leash if it likes to chase and can't be called back.
I loved this park and would have stayed all winter if the weather and temperature had promised to remain sunny and in the high 70's.
Alas, I couldn't get the promise, so onwards and eastwards.
See more of my pictures from Tyler State Park.