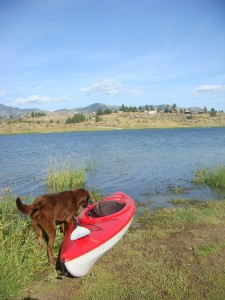 I WAS a great fan of Pearrygin Lake State Park… until just recently.
We couldn't book in there for the full 6 nights we planned to be in the area, so I looked into alternatives and came up with Big Twin Lakes Campground, a mere 3 miles from Winthrop.
What a GREAT choice that turned out to be, for SO many reasons.
Now consider yourself lucky, 'cause I don't often give away the locations of my favorite retreats. 🙂
Big Twin Lakes is a private campground on Big Twin Lake (go figure) which is stocked full of fish.
We ended up with a spot with a beautiful view of the lake and adjacent to a huge grassy field in which we could throw the ball for Jasper and he could run all day.
Better yet, the owner allowed his dog (Layla) to run free and play in the field with Jasper.
Forget about doing that at a State Park. The leash Nazi's would be on you in 2 seconds flat no matter how obedient your dog… and Jasper is the best dog ever, of course. 🙂
Gotta love the lake itself.
There are TONS of birds and ducks that I've never seen before. Kayaking in the reeds was one of my favorite past-times while there.
The lake itself was uber-warm and they have an excellent dock from which you (or the dog) can dive. Plus, there's also a floating dock.
The sites are mostly shaded, so in 90 degree plus temps, you don't really feel the heat.
During the week the campground was SO quiet. On the weekend it filled up — luckily, with respectful people who were out to enjoy the same things that we enjoyed… the peace, quiet and beauty of the area.