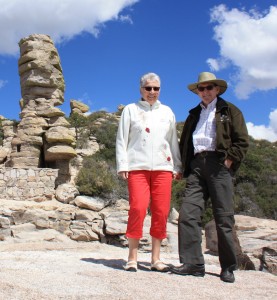 Ed and I have been traveling together since I was 18 years old (for 36 years) and he is still my favorite travel companion. We actually get along better on the road than we do at home. Fortunately, we travel for at least 6 months a year, so our life together is pretty darned good.
In the 36-year meantime, I've traveled with some folks who really should not travel. One was SO bad that I ended a month-long trip with her early and headed out on my own on Day 21… when I really wanted to cancel the trip BEFORE we left.
ANYWAY, back in September 2013, my cousin Gerrit and his wife Truus asked if they could join us for 3 weeks while we traveled through Arizona in our RV this past winter.
Without hesitation, I said "YES!!"
Truus and Gerrit are well-traveled, super easy-going AND family. Not that the latter should add to the equation when it comes to travel partners, but it sure did with them. They were the easiest-going people we've ever dealt with on the road.
Thus was born our Arizona / Nevada March 2014 Tour for my / our Dutch Cousins. They flew from Amsterdam to Tucson and then we toured to the following places which included:
A Kartchner Caverns Tour
A Tour of Bisbee
Hiking at Kartchner Caverns State Park
Hiking Catalina State Park 50 Year Trail in the evening
A day trip to Mt. Lemmon
Hiking the Catalina Loop Trail
A dinner and gambling at the Fort McDowell Casino (where Truus won money)
Tripping out to Canyon Lake and Tortilla Flat
Hiking the Granite Trail at McDowell Mountain Regional Park
Visiting Sedona and Hikng out to Bell Mountain
Lunching at the Cowboy Grill in Sedona where we ate rattlesnake
Dining in the El Tovar Hotel at the Grand Canyon
Touring the Grand Canyon Viewpoints by bus
Taking a Helicopter Tour of the Grand Canyon with Maverick Helicopters
Having dinner at the Yippee-ei-o! Steakhouse in Tusayan, AZ (Grand Canyon)
Having Dinner at the Brewery Bros. in Lake Havasu
Kayaking in Hobie tandem boats at Lake Havasu
Tripping out to the California Casino at Havasu via Ferry
Touring Old Las Vegas and Fremont Street
Visiting the Hoover Dam
Spending the Day at Valley of Fire State Park
Walking the Las Vegas Strip to see the Wynn, Encore, Riviera, Circus Circus, Palazzo, Venetian, Bellagio, Cosmopolitan, Bellagio, Cesar's Palace and other hotels
Watching the Bellagio Fountains
Watching the volcano at the Mirage
Brunching at the Mandalay Bay
Seeing "O" at the Bellagio
We also played Farkle Classic Dice Game
every night and spent as much time with Jasper as time and Park regulations allowed.
Quite the trip for all of us, especially since my cousins are both technically 'seniors' and had to deal with the pull-out couch in our RV each and every night of their trip, i.e. filling it with air, making the bed, then deflating the bed and stowing the bedding each and every day.
They did this all without complaint.
Not only without complaint but with fun and love in their hearts.
We all had a completely lovely time and I could NOT ask for better company… Ed, Truus and Gerrit.
SUCH FUN and THANK YOU!
It was a trip I will remember and cherish forever.
P.S. I will be adding photo links to this post once we get home to British Columbia later in April 2014.