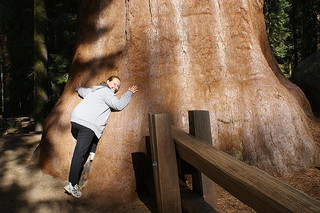 Not only do I hug trees, I kind of worship them as well.
Our main living area is dubbed the 'tree room' due to the fact that almost all the art and artifacts either represents trees, or is made of beautiful wood.
Ergo, when I get the opportunity to hug trees as big as those at Sequoia & Kings Canyon National Park, I wouldn't pass up the chance. 🙂
Giant sequoias (Sequoiadendron giganteum) are the world's largest trees in terms of total volume. They grow to between 160 and 280 feet, 20 – 26 feet in diameter and occur naturally only in groves on the western slopes of the Sierra Nevada Mountains of California.
The largest known living single stem tree on Earth (by volume) is a giant sequoia tree located in the Giant Forest of Sequoia National Park, known as the General Sherman.
The General Sherman is NOT in the picture above. He is guarded by a big fence, so that no one can hug him. I guess they are protecting him from tree haters and/or others who might (inadvertently) do harm to trees.
This is a picture of the General Sherman… or part of it.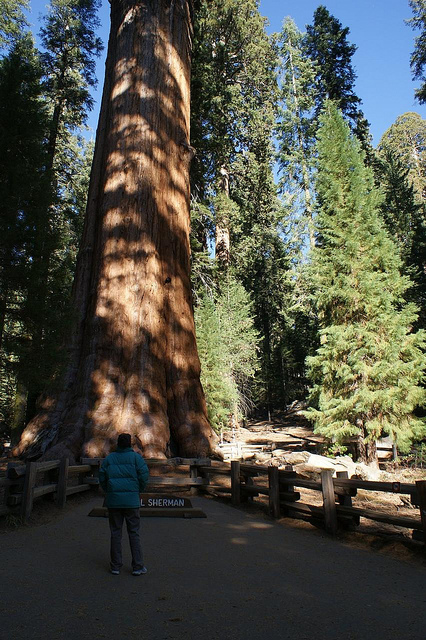 Without a really good wide angle lens, it's impossible to take a complete picture of the General, or most of the other trees in the Giant Forest Grove in which Sherman lives.
If you get a chance to visit the park, I highly recommend that you also stop by the Lodge for lunch. I had the black bean burger pictured below… VERY tasty!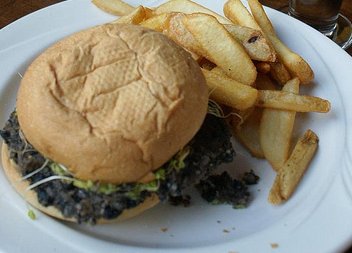 See our other pictures from Sequoia National Park.