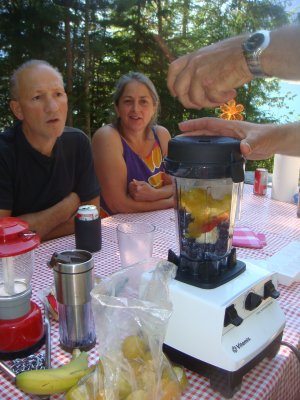 We enjoyed Ed's Blueberry Sorbet while camping at McDonald Creek Provincial Park.
Here's the recipe:
Yield: 3 cups (720 mL)
Processing Time: 30 to 60 seconds
Speed: Variable to High
1 cup (240 mL) skim milk
2 cups frozen blueberries
1/2 Banana
1/2 cup Splenda or sweetener to taste
1/2 teaspoon (3 mL) vanilla extract
ICE
Place all ingredients in Vita-Mix container in order listed. Secure 2-part lid. Select VARIABLE, speed #1. Turn on machine and quickly increase speed to #10; then to HIGH. Use tamper to press ingredients into the blades while processing. In about 30 to 60 seconds, the sound of the motor will change and four mounds should form in the mixture. Stop machine. Do not overmix or melting will occur.
Serve immediately.