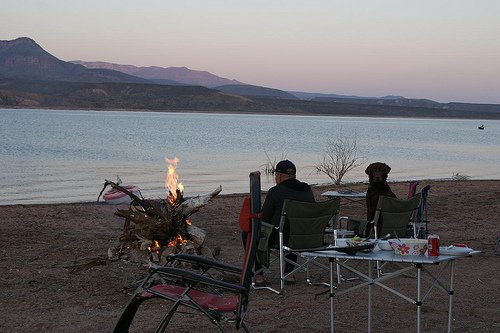 Boondocking at Roosevelt Lake ranks as one of my favorite times during the 5 months we spent snowbirding last winter.
The 4 nights we spent there, were to be the last of the trip with our friends Bill and Georgie, whom we met a Kartchner Caverns State Park about 6 weeks before.
We left McDowell Regional Park near Phoenix around the same time and met up at the Tonto Basic Marketplace where we stocked up on supplies — including Clamato for $7 a bottle (highway robbery!!).
The original plan was to stay at the Cholla campground, which turned out to be located well above the lake and offered no services other than hot showers in close proximity to the campsites. Fortunately, when we pulled in, I was OVERJOYED to hear Bill suggest that we stay down on the flats next to the lake instead. We had passed that camping area on our way south and I had really been hoping THAT was the camping area they had chosen.
Although the lakeshore was almost completely full with other RV and tent campers, we found a large enough spot to line up our 2 RV's alongside the lake.
On arrival, we let Jasper out unleashed to explore the area. Within seconds, every dog from the neighboring campsites had arrived to say hello, followed shortly by their masters.
It didn't take long to learn the popular 'alert', meaning that the park official was coming down to the beach to check passes and get everyone to leash their dogs. Everyone HAD passes, but NO one had their dogs tied up, so you always had to be on alert. 🙂
After setting up the satellite dish, the boys started building a fire ring and fire that would last the entire time that we were there. Fuel for the fire was available just a short walk from the site. Not SO short however that the guys didn't get into some interesting means of transporting firewood back to our campsite.
Because there is almost nothing in the area in terms of sightseeing or shopping, the focus at Roosevelt Lake is strictly on having fun at the beach. Most of our neighbors had fishing boats — but they didn't seem to be catching too much of anything during the time we were there. We used our boats (kayaks) to explore the shore and exercise Jasper.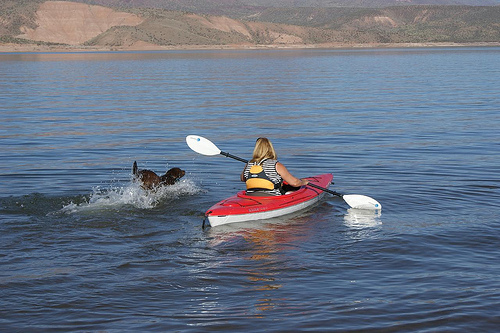 While lounging around the fire one morning we elected to have hot dogs and beer for breakfast. 🙂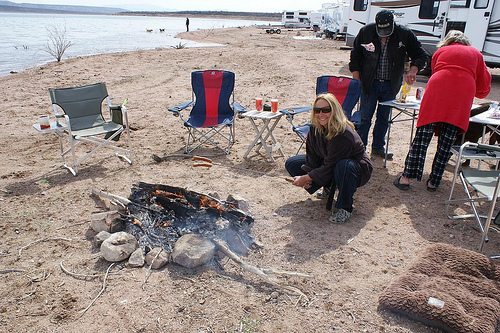 Other than that, we hung out around our awesome campfire, chatting, eating and tossing balls for Jasper into the lake. At night we could entertain ourselves either with the Internet or with movies from our extensive collection. 🙂
This is definitely my favorite type of camping – no distractions. Just living and having fun.
Postnote – At around midnight on our last night, I was awakened by noisy campers. Looking out the window, I discovered that they'd set up camp directly in front of our rig… just yards from our mat and fire. How RUDE. Luckily for us, this was the night prior to our departure, so in the morning we just packed up and left without a single word to the 'intruders'. 🙂