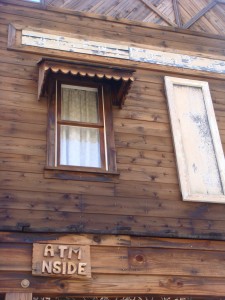 Although the signs repeatedly stressed "authentic" and "real", I'm quite sure they didn't have plastic/aliminum tinsel Christmas decorations or icicle lights at the Calico mining town back in 1881, let alone ATM's.
What can I say, but for those who enjoy touring historic towns, Calico Ghost Town was a bit of a bust.
Granted, we got in at the $10.00 per car holiday rate (as opposed to the $6.00 per person regular rate), but that was because there was absolutely nothing happening. No one in period costume and all the buildings of real interest were closed, i.e. the Lucy Lane home and museum.
If not for the garrish advertising on the storefronts, the building reconstruction has been very well done. Unfortunately, the whole main street is completely commercialized, predominantly with tacky tourist souvenir shops and eating establishments.
One shop that advertised basketry and other woven goods was intriguing, yet the goods were sparse (NO woven goods) and the few baskets that they had in stock were seriously overpriced.
Actually, everything was overpriced. A red kerchief that anyone can pick up at Walmart for 2 bucks or less was $8.95, and Ed paid almost $4 for a cappucino that had him wondering if it contained any caffeine.
For a buck, you can do a 10-minute self-guided mine tour, which contained about 5 additional exhibits of life and work underground back in the day. Caution to those who have trouble seeing in the dark, the shaft is so dimly lit in some portions that you may want to bring a headlamp for personal use.
The most bizarre thing we saw was the opportunity to do some "gold panning".
Huh?
Calico was a silver mining town!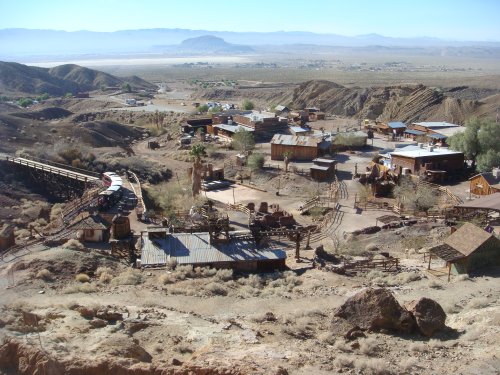 Anyway, if you're in the area, it's some good amusement for a couple of hours, especially if you have kids. However for serious history buffs who might want to travel out of their way to see Calico… take a pass.