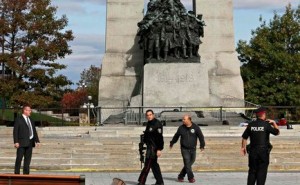 I'm almost livid at the moment.
Just got back from the store where, while I was checking out at the cashier stand, some guy says,
"They've cancelled the hockey game tonight".
I had to bite my tongue quite strenuously to avoid a sarcastic retort, i.e. "The hockey game? THAT's your concern? Are you freakin' nuts?"
THAT would have been my most mild response, because he was a BIG guy and I'm a short, weak, middle-aged woman.
But seriously.
A Canadian soldier was shot and killed today at the War Memorial in Ottawa. His name is Corporal Nathan Cirillo, 24, and he was a reservist from Hamilton.
The gunman, identified as Muslim convert Michael Zehaf-Bibeau, 32, then went to wreak havoc on Parliament Hill.
He, fortunately was killed – shot dead in his tracks by the ceremonial seargent-at-arms.
In the meantime, all of Ottawa was on lockdown. Schools, Parliament Hill, military bases… etc.
And… what does the truly stupid buddy say?
"They've cancelled the hockey game tonight".
No shit, Sherlock.
Tonight's game was the Leafs against the Senators in Ottawa and the NHL had the good sense to postpone the game.
Maybe YOU should avail yourself of the news and show a little more concern and compassion?
Here are some reports that you can read, IF you can read:
And last but not least… part of what connects us as Canadians, ahead of our love of hockey, is compassion. Maybe you should get some.