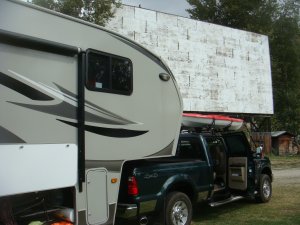 Rather than drive Highway 6/Highway 97 back to Penticton from McDonald Creek, we opted to split the drive in two and took the Slocan Valley route, spending the last night of our Kootenay Camping trip at the Kootenay River RV Kampground in Castlegar.
The campground is right at the confluence of the Kootenay and Columbia Rivers, in sight of the bridge and Robson Rock.
Better yet, it's located a stone's throw from the Doukhobor Discovery Centre and Village Bistro, where we feasted on Borsch, pierogies and other Russian delicacies.
Best of all, the campground is the site of Castlegar's old drive-in movie theatre and the screen STILL stands.
We were parked just beside it and I kept expecting the movie to start any moment.
Alas, it didn't… but it WOULD have been very cool.