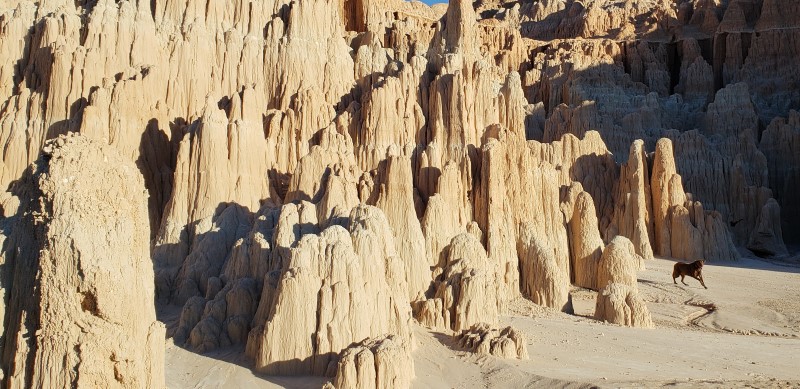 Ed and I were finally able to visit Cathedral Gorge State Park last November after waiting years to do so.
What I mean about 'finally' visiting the park, is that we missed it both north and southbound primarily due to weather.
Because Cathedral Gorge sits at 4,800 feet (1,500 m) above sea level, it is often too cold or still snow-covered when we pass through the area in November and again in late March.
Anyway, I'm SO glad we were able to visit on this year's trek southbound because the Park is absolutely gorgeous.
About the park from Wikipedia…
Cathedral Gorge State Park is a public recreation area and geologic preserve featuring a dramatic landscape of eroded soft bentonite clay covering more than 1,600 acres (650 ha) in Lincoln County, Nevada. The state park is located along U.S. Route 93 at the west end of State Route 319, one mile (1.6 km) north of the town of Panaca.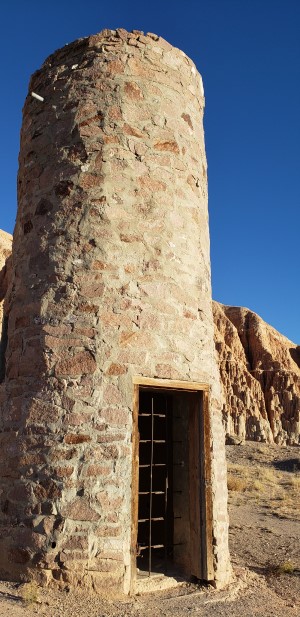 We arrived at the campground in the early afternoon and immediately drove to the end of the road and checked out the formations along the route, as well as the slot canyons, which are known locally as 'caves'. Jasper had a fabulous time exploring the slot canyons as seen in the picture above.
Although technically closed during our stay, we were able to go into the park's Visitor Center (near the park entrance) and check out the interpretive displays and information about other parks in the area.
From there, we drove up to Miller's Point, which overlooks the formations from the north end of the park.
There are 6 hikes in the park, ranging from .2 miles to 4.2 miles in length.
From the campground, the Nature Loop Trail (.5 miles round trip) takes you to the CCC Water Tower (shown in the picture to the right) which was built in the 1920s.
On returning from our drive up to Miller Point, I walked the Juniper Draw Loop with Jasper.
We stayed overnight in the campground, which has 22 sites, including ADA-accessible sites, a group use area, restrooms, and showers. Although there are electric hookups at the campsites, there are no water hookups, so be sure to fill up your tanks before coming to the park, or at the park before parking your rig.
If you camp at Cathedral Gorge, do NOT count on having cell phone reception, let alone radio or TV reception. Some mobile carriers provide better access than others, but ours (T-Mobile) wasn't one of them. Then again, it was such a pleasure to be completely disconnected from the phone, Internet and all types of media for a whole 18 hours during our stay at Cathedral Gorge State Park.
BTW, as we're on very limited bandwidth at the moment, I haven't been able to share as many pictures of Cathedral Gorge State Park as I would like. Please stay tuned (sign up for my newsletter) and I'll let you know when all the gorgeous photos have been uploaded! 😀
Did you enjoy this article? If so, please share it with others! If you have a comment, question or suggestion, please post it below!
Cheers,