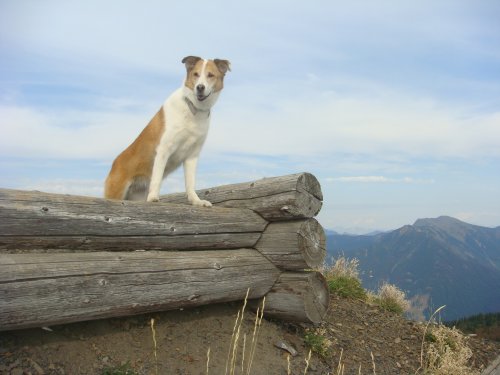 We got to know Chinook when she moved from Whitehorse to Penticton and ended up living across the street from us with her parents Martin and Jennifer.
A cross between a collie and a husky, Chinook had been trained to excellence by her mom, Jennifer – a dog-show, obedience enthusiast.
Chinook obeyed all commands given by her owners OR whomever she was with at the time.
After spending time with he 'on the street', Ed and I were keen and delighted to be able to take her with us on our hiking trips and camping vacations around British Columbia, knowing that we could trust she would always be safe by obeying our commands.
We took her snowshoeing, camping, hiking, swimming and to visit friends around B.C. over the course of 2 years.
She came as the 'special guest' (and my favorite guest) to my 50th birthday party.
The next summer she campe with us to camp at our favorite spot at Pearrygin Lake in Winthrop after we got our own dog, Jasper, in 2010. She didn't much care for Jasper the puppy — who couldn't stop kissing her. 🙂