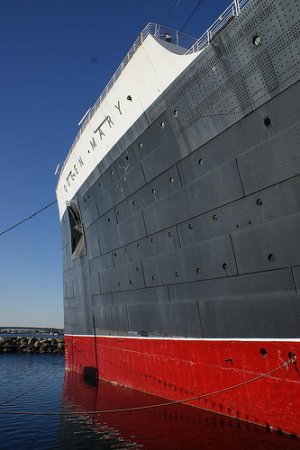 I've never been keen on dancing and Ed would probably rather jump off a cliff than do so, but neither of us could resist a spin around the ballroom on the Queen Mary in Long Beach.
Just the possibility that we might be tracing the footsteps of people such as Winston Churchill, Marlene Dietrich, Gary Cooper, Lionel Barrymore, Spencer Tracy, the Queen Mum, William Randolf Hearst and others was just too good to pass up.
After no one applauded our feeble efforts, we carried on with the tour. 🙂
We did 3 of the daytime tours aboard the Queen Mary, listed below. Text in italics is from the official Queen Mary site.
Self-Guided Audio Tour
Explore the ship at your leisure and let your audio guide steer you through the story of THE QUEEN MARYSM.
Behind-the-Scenes Tour
This guided walking tour offers you a deeper look into the ship's history; from her construction and launch to her passenger service and days as a troopship. If you do any tour on the Queen Mary, do this one. Our guide was terrific… not only informative, but very entertaining.
Ghosts & Legends Show
Dare to experience this interactive, special effects show highlighting some of the ship's famous paranormal hotspots as our guide walks you through THE QUEEN MARY'sSM haunted past. OK, this was pretty hokey, but still a LOT of fun.
After getting our fill of the boat, we did the Scorpion Submarine tour, described as Explore an authentic Cold War-era Russian submarine, code name "Scorpion" and experience the life of a submariner. Ed's the submarine fan, but not I. The tight dark spaces had me creeped out pretty quickly… and we were above water. Can't imagine how anyone would actually want to work on a sub. Ugh.
After almost a full day of touring, we returned to the Observation Bar & Art Deco Lounge to enjoy a good brew, uninspired munchies and terrific ocean views.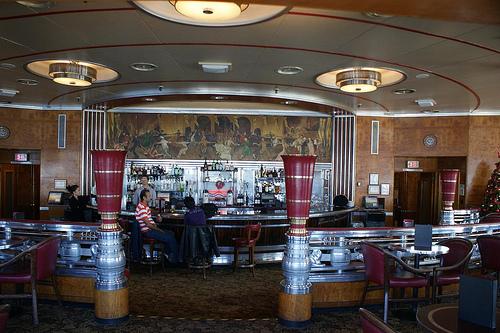 NOTE: a woman fell to her death from the highest of the Queen Mary's gangways after spending time in that bar… the same night that we were there. So, if you plan to drink aboard the ship… walk (or crawl) right down the middle of that gangway on your way back to the elevator.
See our other pictures of the Queen Mary here.