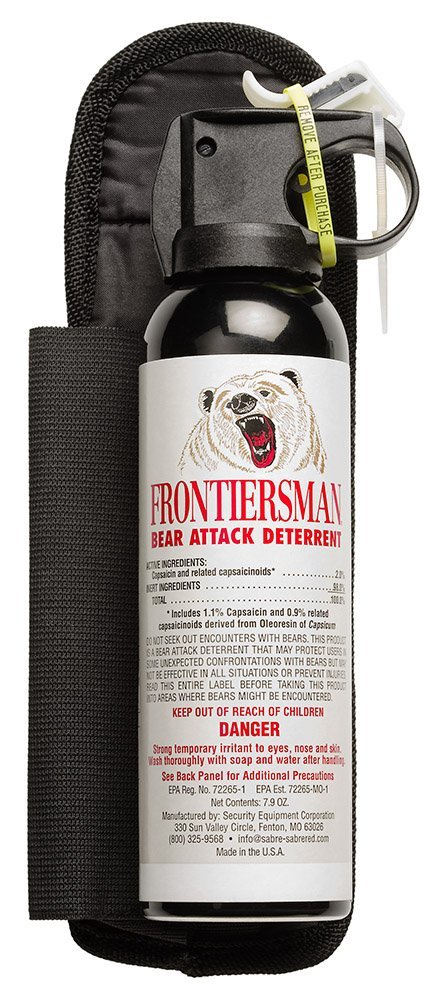 I was relaxing in the 'upper' bedroom of our 5th-wheel when I heard Ed yelling and felt the unit start to rock.
On opening the bedroom door to the lower section of the RV, I was immediately overwhelmed by fumes that caused my eyes to water and made it difficult to breathe.
I could see that Ed had opened the main exit door and was trying to open the windows as well.
My main concern was to get Jasper (our Chocolate Labrador), Ed and myself out of the unit… and before I coughed myself to death.
So, what happened?
Well, as it turns out, Ed was looking for something in one of the cabinets in which I keep 'outside' stuff, including a big can of bear spray.
He'd reached beyond the bear spray to pull something out and the can of bear spray toppled out on the floor.
Because I had removed the 'safety pin', a little bit of the pepper spray was released when the can hit the floor.
Based on that scant exposure, I can't imagine how the UC Davis students who were part of the 'Occupy' movement withstood the torment of being thoroughly doused by pepper spray by a police officer back on November 18, 2011.
Seriously, just a little whiff was horrendous.
Anyway, moral of the story… bear spray is an amazing deterrent for bears and people, BUT do NOT remove the safety if and until you plan to use the substance.