Enroute to Dubai for the UPO conference, I stopped in the Netherlands for 72 hours — which turned out to be 3 of the best days of my year so far.
I stayed with my cousins Gerrit and Truus in Etten-Leur (in South Brabant).
Neither Gerrit nor Truus is fluent in English and my Dutch is almost non-existent, but the time we spend together is always simple, lovely and fun. Granted, beer consumption helps, even if Gerrit's beer machine is 'always' empty (according to Daan).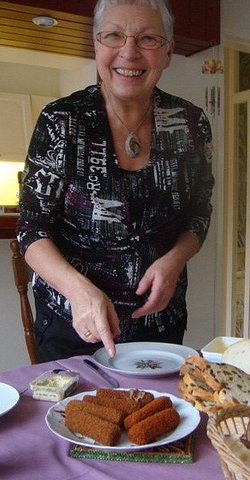 The following morning we hung out with their daughter Corina, Corina's husband Tobias and their kids.
My cousin Gerrie and her husband Daan came out with their son Marcel in the afternoon and Truus made croquettes for lunch (the only thing I had specifically requested during my stay — everything else was up to them).
YUM!!!!
We then spent the rest of the afternoon planning their 2011 trip to the Rockies and the Okanagan. (Can't wait!!)
At dinner, we headed out to Mei's Wok at Oude Bredaseweg 2/A in the center of Etten-Leur. The restaurant serves everything from beef, pork and chicken to much wilder meats. Sadly, I seemed to be in a time warp, but Truus enjoyed at least 9 different plates! 🙂
On Day 2, we did a walk-about in Etten-Leur and went to my Opa's (grandfather) old house on Dokter Moller Straat. Sadly, the current owners haven't cared for the place as well as my Tante Dit did – and the front garden has gone to ruin.
One of the REALLY cool changes since the last time I was in Etten-Leur was that they moved the highway OUT of town. Now there is a lovely treed parkway and new apartment complexes in its place… nothing to stir memories of the boy that I saw killed on that highway when I was 8.
Later that evening, we drove out to the Vianen in Utrecht for a small family reunion with some of my cousins from Zaltbommel and Den Helder. I say 'small' because although there were almost 30 of us, the extended family includes nearly 200 people.
Pretty overwhelming for an only child and the only Canadian in our entire family.
Overwhelming but fantastic.
Special thanks to Truus, Tia and Renske for making that happen. It was a VERY special evening that I will remember forever.
I can hardly wait for the BIG family reunion next year!!! Especially since a number of us are now connected on Facebook and my Dutch will be SO much better! 🙂
Poor Ed. He'll be the overwhelmed one next time. 🙂