Just learned that Google will be terminating it's Power Meter service, according to this announcement:
In the coming months, we're going to retire two products that didn't catch on the way we would have hoped, but did serve as influential models: Google Health (retiring January 1, 2012; data available for download through January 1, 2013) and Google PowerMeter (retiring September 16, 2011). Both were based on the idea that with more and better information, people can make smarter choices, whether in regard to managing personal health and wellness, or saving money and conserving energy at home. While they didn't scale as we had hoped, we believe they did highlight the importance of access to information in areas where it's traditionally been difficult.
That's a darned shame, considering I really did appreciate the service, especially when we were away for the winter. It was easy to see if the house-sitter was having a party. 🙂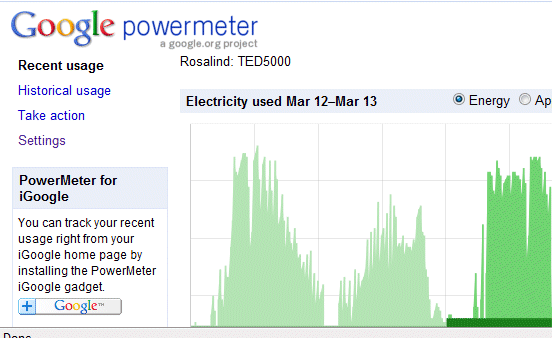 If you use a TED Energy Detective like we do, here are some alternatives to the Google Power Meter.
To read more about Google Power meter and the shutdown, check out this post on the official Google blog.