I bring you GOOD news! From today forward this year gets lighter and brighter… by at least a minute every day, even though it has been snowing here all day. Yay!
We hope these greetings find you and yours healthy, happy, and planning holiday celebrations that keep you healthy, happy and SAFE.
Ed, Jasper, and I are all doing very well.
We stacked a cord of wood yesterday morning in record time with no ill effects – so far – thanks to the inventor of acetaminophen.
Starting in January, Ed NOOMed his way to a 28-pound weight loss over just a few months. I suspect fixing our 'seawall' after the near floodwaters this spring also contributed to that very impressive number. He's been wearing t-shirts that I haven't seen in over a decade. Good thing I didn't turn them into paint rags!
I didn't get the same opportunity to lose tonnage as Ed did, as he 'took care' of me during 3 of my hospital stays during COVID by delivering Starbuck's Grande Mochas to me (via porters) daily. That is my excuse and I'm sticking to it!
Oh ya, in January I was recuperating from the 1st of what would become 5 surgeries for 2 cancers and 1 pre-cancer over a period of 8 months – the result being that by August I was completely cancer-free having had neither chemo nor radiation.
I have a newfound appreciation, respect, and gratitude for the Canadian medical system and its practitioners, especially the nurse shown above. She wielded a mean heparin!
I am also grateful for Facebook, through which I was able to share what was happening with me, especially during COVID, when I/we could not have visitors. Those prayers and well wishes from family and friends helped immensely to keep my spirits up.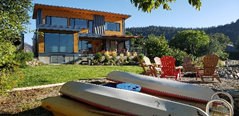 In addition to visits with local friends on our spacious deck this summer, my roommate from PG ATC, Damon, his wife, Liana, and their son, Kai, came for their annual visit, for which we were SO grateful!
I can't wait 'til we're post-COVID though, as I prefer when Damon and Liana take control of our kitchen during their visits.
Like so many of our friends who love and live to travel, COVID put a BIG kink into my/our cancer-free travel celebration plans – Italy and Jordan in September and India in January.
But, we still managed 3 GREAT trips this year!
We used Alfonso di Rossa's (my car) annual check-up in Calgary to enjoy a 3-day Rocky Mountain holiday in May. The Banff Juniper Hotel was ours alone for 2 nights.
We then spent the next day in Lake Louise, where we had a picnic lunch on the lakeshore trail with YUMMY sandwiches from Tailhead at the Samson Mall.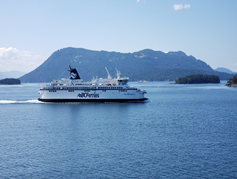 As Ed had never been to Victoria, August found us on Vancouver Island for 4 days.
We spent a WONDERFUL day at Butchart Gardens with our dear friends and camping buddies, Georgie and Bill.
In addition to exploring Victoria, we spent a lovely day out at  Botanical Beach. Our dining experience of note was at Harbour House, an honest-to-goodness old-fashioned steak house with awesome food and great service.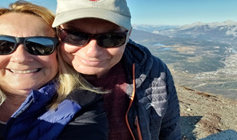 In late September, we went to Jasper National Park for 4 days.
With a dog named Jasper (named for the park), we HAD to get the t-shirts, finally.
We stayed at Pyramid Lake Resort, the weather was amazingly beautiful, and we did ALL the Jasper highlights, including the skytram, Sunwapta and Athabasca Falls, and had a FANTASTIC dinner at Syrah's.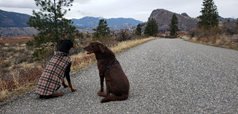 Speaking of Jasper, our boy will turn 11 on February 11, 2021. We were hoping to adopt a sister for him this coming spring, but the Aussie Doodle adoption lists are completely full. Thankfully, however, Jasper has a new walking and play buddy, Targa, a sweet and BEAUTIFUL 6-year-old Doberman. Since Jasper started having regular long walks with Targa, I've noticed that he suffers less the day after his walks than he did before those playdates.
Jasper and I alike!!
Since starting regular walks with my girlfriends, my body feels SO VERY GOOD, i.e., the more you do, the more you CAN do! What a revelation! Ya, OK, I know, NOT a revelation to you, SO many of our friends, who are and always were athletes. Note the absence of an accompanying picture in this paragraph. Maybe next year… uh huh. ?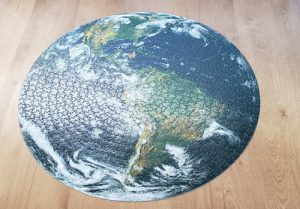 Other than that, Ed and I have been amusing ourselves with jigsaw puzzles, paint-by-numbers (me), and more adventures in cooking.
As for cooking, Ed is planning a ham dinner for this year's Christmas repast, a first for us both, but highly symbolic considering this year has been SUCH a pig.
Speaking of pigs, the jigsaw puzzle shown to the left was the most difficult we've ever done. It has been awarded to the friend who has been MOST naughty this year! LOL.
So, that's our 2020 story. What have you been up to this year? Please leave a comment and let us know!
We wish you ALL the VERY best for a happy, healthy, and SAFE holiday season in 2020 and a much better 2021!
Love and Socially-Distanced Hugs all 'round,
Ros, Ed and Jasper the Chocolate Labrador.