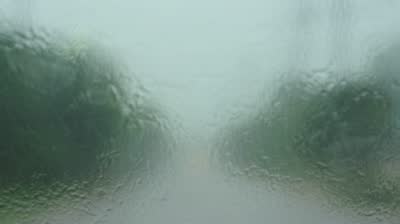 Today's drive was difficult to say the least.
We left Lafayette, Louisiana enroute Houston, Texas with 3 hours and 20 minutes ahead of us.
Ed and I usually split the driving – although I normally do all city, night-time, parking and back-ups. 🙂
Ed took the first leg which was relatively benign. Highway 10 all the way in cloudy weather.
As we approached the Texas state line, we were approaching a very dark line of thunderstorms. Sure enough, we hit the line and visibility was reduced significantly… i.e. only as far as the tractor trailer in front of us.
Fortunately, there was a Texas Welcome Center just after the state line and we pulled off for ten minutes to wait passage of the cold front and a slight clearing.
Unfortunately, after we got on the road again, there were lines and lines and more lines of thunderstorms that just got worse.
Visibility was reduced to a few hundred feet and less at times.
Baffling (and stressful) to me is that most drivers failed to slow down for the conditions.
Worse is the fact that those drivers seem to believe that it's OK to pull into the right lane within just a few feet in front of a tractor trailer or an RV like ours.
FOLKS! Get a freakin' clue!
Slowing a heavy vehicle down takes more time than it takes to stop your BMW. If you pull in directly in front of me then brake heavily, I WILL hit you — even if I brake immediately using both my truck AND trailer brakes.
Moreover, if roads that haven't previously been wet for some time, they are greasier than average, further reducing the stopping distance.
It is STUNNING how stupid some drivers are.
To add insult to injury, I pulled over into a Texas 'parking area' when visibility became too low for comfort.
There was no exit ramp speed posted, nor was there any warning that the pavement turned into gravel much immediately after the exit, OR that there was a massive foot-deep hole at the end of the pavement.
BANG! BANG! BANG!
Ed and I looked at each other and started laughing hysterically that we had managed to avoid serious injury.
That we didn't break a spring was amazing.
What DID happen however was that all our Corel dishes hit the floor and one shattered, creating various sizes and shapes of dangerous shards.
On arriving at the campground, I worked for half an hour to vacuum and mop every little shard possible before letting Jasper back into the RV.
Seriously… a little government intervention by way of appropriate warning, if not proper maintenance would have been appreciated!!!!