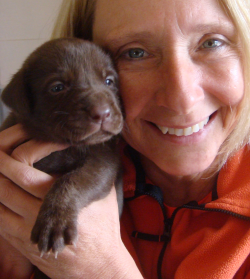 Note: Comments are now closed as the puppy has arrived and has been named. Click here to find out what we call him. Thanks to everyone who suggested names!!
Although I've really wanted one, I haven't had a dog of my own since I was in my early teens. My excuses included being single,  constantly on the road and in hotels… yada, yada, yada.
Well, no more excuses.
I'm getting a Chocolate Labrador retriever puppy in 5 weeks and I can barely contain my enthusiasm! Granted, that should be 'we' as my friend Ed will be co-parenting, but I'll be its adopted mommy, primary cuddler / walker / trainer and companion.
Shown right is a pic taken today of one of the pups from the litter, at just 24 days old.
Now here's the problem. We can't decide on a name.
Some of those proposed include:
Mojo (after its dad)
Marley
Moccha
Radar
Webber
Riley
Bob
Got any better ideas? I'm asking for help because the 3 dogs I had as a kid were named Lucky, Snoopy and Rover — and I don't want to make a similar mistake. 🙂