I hate to admit this, but one day last week I 'invested' almost 10 hours to book flights for a trip that will take me from Penticton to Toronto, Amsterdam, Dubai, Frankfurt, Toronto and back to Penticton.
Agony is a good descriptor for how I felt while trying to get my preferences for dates (pretty specific), class (prefer business), flight duration (short), price (low as possible) across multiple booking platforms including individual airlines, Aeroplan and Expedia.
Granted, I think the final outcome was pretty spectacular.
I booked a trip valued at almost 12 grand for only 1400 bucks.
But, yes the process was definitely agonizing, especially when you factor in all the hotel and car bookings.
Too bad I didn't learn about Hipmunk until today. One of the criteria that you can sort bookings on is 'agony'.
Here's a screenshot from their interface: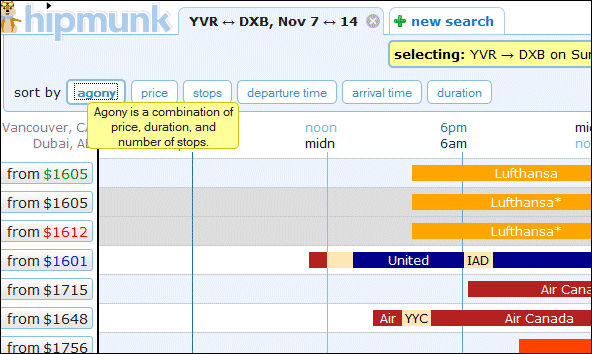 Gotta love it. Obviously built by people who understand that frequent travelers don't actually prefer to spend their lives sorting through massively confusing lists of options.
Check out this 2-minute Hipmunk "short view" of the process.
I'll certainly be using it next time… IF there is a next time. Aargh…