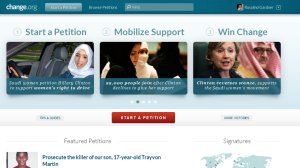 Here is an email that I just received from the Change.org team which I found very inspirational…
In the past three weeks, Apple revamped its policy to protect workers in China, Meryl Streep and Johnny Depp stood up to high school bullies, President Obama took action to protect Syrians living in America from potential torture and death, and a woman named Hope saved her husband from deportation.
Here's the crazy thing — it's possible none of this would have happened if people hadn't started petitions on Change.org. But they did. Today we want to share stories with you of nine people who took a chance to try and change something, earned the support of thousands of signatures, got attention from major media outlets from the New York Times to The Ellen DeGeneres Show, and who ultimately won their campaigns.
These victories are amazing on their own. But we're even more excited about the potential they represent: we're living in a time where anyone, anywhere, can use the internet to change the world. (Seriously, you can start a petition right here.)
Keep reading — we hope you find these stories as inspiring as we do.
– Patrick and the Change.org team
Apple customer Mark sparks promised improvements for workers in China
"Like most Apple customers, I had no idea how appalling the working conditions were at Foxconn, where most iPhones and iPads are assembled. After hearing employees worked excessive hours, in some cases seven days a week, and stood so long their legs swelled until they couldn't walk, I wanted to write a letter to Apple, but then I thought, why not start a petition instead? 250,000 signatures later, Foxconn has promised major changes, including making sure all employees work no more than 49 hours per week without having their salaries cut. I know great organizations continue to press for additional improvements, but I'm so grateful to have played a part in this amazing first step." -Mark Shields
Maha and Darakshan save countless Syrians from terror and violence
"Since Syria's democratic uprising in 2011, the government there has killed thousands of people. Syrian nationals living in America were terrified of being deported and tortured or killed for supporting democracy. We started a petition asking President Obama to grant those Syrians "Temporary Protected Status" so they could stop living in fear, and after 12,000 people and several members of Congress supported our campaign, President Obama came through." -Maha Hilal & Darakshan Raja
Meryl Streep, Johnny Depp and Ellen DeGeneres support Katy's fight against bullies
"I used to be bullied so badly that I was afraid to go to school. When I saw that a new documentary made to stop bullying was rated R, I started a petition asking the Motion Picture Association of America to change the rating to PG-13 so that the kids who most needed to see the film would be able to. A few weeks and almost half a million signatures later, I got to be on The Ellen Show. Meryl Streep, Johnny Depp, and 35 members of Congress threw their support behind my campaign. Now the movie's distributor, The Weinstein Company, is releasing the film as 'unrated' so that all kids can see the movie." -Katy Butler
Mom and food blogger Bettina keeps "pink slime" out of school cafeterias
"I'm a parent who writes about children and food, especially school food reform. So I was upset to learn that USDA was arranging to offer school districts ground beef containing 7 million pounds of 'lean, finely textured beef,' more commonly known as 'pink slime.' LFTB is made from slaughterhouse scraps previously used only for pet food and cooking oil, and treated with ammonium hydroxide to kill pathogens. In just 9 days, nearly 250,000 signed people my petition, leading the USDA to change its policy and offer districts, for the first time ever, ground beef without this cheap filler." -Bettina Elias Siegel
Jason takes on an insurance company to help save his dad
"My dad, Henry, had a terrible heart attack last fall that left him with severely impaired cognitive and motor skills. His doctors said that rehab would help him get better, but his insurance provider — Blue Cross Blue Shield Massachusetts — refused to pay. I started a petition on Change.org and almost 200,000 people signed it. Now Blue Cross has agreed to pay for my dad's care." -Jason Warren
Craig — a straight Republican Marine — defends his gay brother's right to marry
"I served in Iraq to defend freedom and liberty, but the legislature in my home state of New Hampshire wanted to take away my brother Calvin's freedom to marry the person he loves just because he's gay. I started a petition asking New Hampshire's Republican legislature to do the conservative thing: stay out of people's private lives. More than 125,000 people signed my petition, and the legislature voted to uphold marriage equality. I hope one day I get to be the best man in Calvin's wedding." -Craig Stowell
Cancer survivor mom Jane convinces Mattel to manufacture bald Barbies
"I lost my hair when I went through chemo, and I know so many little girls go through the same thing — it can be sad and scary. I started a petition asking Mattel to manufacture a bald Barbie so that little cancer warriors will see that they are beautiful princesses, too. Almost 35,000 people signed my petition, and now Mattel says it will make bald dolls and donate them to children's cancer wards around America." -Jane Bingham
Hope Mustakim uses petition to save her husband Naz from deportation
"With the outpouring of support from our community, numerous organizations, churches, Change.org, our incredible legal team, friends and family, and our loving God, my husband Nazry is back home in Waco. Thank you Change.org for believing in our cause and providing a way to gather the support that played a monumental part in winning Naz's freedom back. We are so grateful." -Hope Mustakim
Is there something you want to change in your community, or in the world? Click here to start your own petition on Change.org.