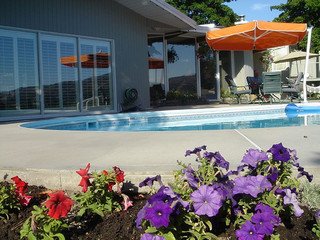 Aargh. What a fiasco.
I'd finally decided not to rent my house out during our time away this past winter when I got a call last minute from a friend to whom I'd offered the house way back when.
He really needed a house in town for he and his wife, who were currently living in their trailer up north in the valley. The drive into town for work during the winter was going to be taxing and I could only concur.
No problem. They had rented the house next door to mine for many years and had been good neighbours – 4 out of 5 on the rating scale.
The rating would have been 5 out of 5 but for the fact that he'd done me a 'favour' by pruning out a maple tree that lay on my side of the property line and made a huge mess of it. Considering there was no way he could NOT have known that I hire arborists to 'craft' the trees on my property – this was a huge error on his part.
None-the-less, I was concerned for he and his sickly wife, so decided that they could indeed stay at my home for 5 months over the winter. Originally we agreed that they should pay the utilities, then later agreed that $500 per month should cover everything. BTW, $500 per month is LESS than the cost of utilities.
Because my utilities are paid automatically through bank withdrawals, I assumed (stupid me) that I would get a check for $2500 when I returned home.
But oh no, that was not the case.
"What do you mean, $500 per month? We thought we agreed to utilities", he said.
"OK fine, I'll add up the utilities but I guarantee that they'll be more than $500 per month" was my reply.
So, where's my check?
"We had a deposit to put down on our new rental house" was the next excuse.
Huh?
"I hope this won't affect our friendship, which I value highly".
Huh?
How can you say that you value a friendship highly, then cheat that friend out of what you owe them when they've done you a huge favour?
By HUGE favour, I mean letting out a house that would normally rent for 2K a month for 1/4 of the price.
Regardless… I still didn't see any money forthcoming.
He told me he'd have a "partial" check to me on the 15th. It's now the 22nd and there's been nary a peep from him, let alone one red cent.
Furthermore… and this erks me more than anything else… the damage they did to the house in 5 short months is amounting to WAY more than what they owe.
They were told NOT to use the fireplace in the living room unless they used prefab logs (which we left for them).
Yet I discovered that my 50-year-old fireplace, which has never smoked or back-drafted, was black with soot, as was the beautiful cherry mantle. It looked like there had been a freakin' inferno.
When asked, Kevin (the renter) said they'd only used the prefab logs.
LIAR.
We saw that wood from storage in the outside fireplace had been removed. Unless they up and threw it away, one can only assume it was used in the living room fireplace.
The littany could go on… broken knife, broken vacuum cleaner (brand-new), hole burnt in leaf vacuum bag, cracked casing on leaf blower, missing items including a $150 pillow, and last but not least (that I know of so far) 50 cedars ruined by dog piss. My dog does NOT raise his leg to piss on our trees – he squats and goes on the grass.
Too, I left supplies up the ying yang for them – all of which were used – NOT one of which was replaced.
The nerve.
I personally would never dream of using someone that way. My motto has always been "leave it the same or better than you found it". Now I learn that not everyone thinks that way.
That's fine. The answer is simple, I will NEVER again rent my house, UNLESS I make enough to cover all the damages in advance.