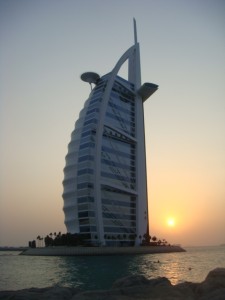 Massive, busy, glitzy, glamorous, gleaming, hot, humid, fun, plastic and in many ways completely surreal. See pictures of the adventure on Flickr.
I flew to Dubai from Amsterdam on Emirates, landing at around 00:40 on a Tuesday morning after a 40-minute hold out over the Gulf. Taxiing in took almost 15 minutes, followed by a lurching 20 minute bus ride back to the terminal. Next was the hike to customs & immigration where we shuffled at a snail's pace for another hour prior to release into the baggage claim area. From there to the limo stands was another long walk, tripled in length because I missed the sign for my pre-arranged transfer amidst a hundred others on the first pass, so had to backtrack. Found my driver only after calling out "Gardner" a number of times. All in all, it was considerably more exercise (and waiting) than anyone should endure in the wee hours after a long flight.
Fortunately, my initial impressions of 'too big' (Terminal 3 is single largest building in the world by floor space) and 'awful air traffic control system' (like, where's the flow control?) were dispelled after meeting up with the organizers of the Unlimited Power Online (UPO) event.
We were treated to a grand tour of Dubai in the days prior to the conference, which included:
Evening cocktails overlooking the Dubai Fountain
Atlantis Aquaventure
Tour of the Atlantis hotel and the Lost Chambers
Sunset watching at the 360 bar at the Jumeirah Beach Hotel
Burj Khalifa (world's tallest building) visit
Dubai Internet City and Cisco
Breakfast and talk at the Dubai Center for Cultural Understanding
Al Fahidi Fort and the Dubai Museum
A ride on an Ahbra (pics) and the Dubai Metro
Shopping in the Old Souk (pics)
Partying on Nasimi Beach
Countless wonderful lunches and dinners with GREAT company.
Memories of Salsa dancing in the Filipino hooker bar, Yankee haggling for a pair of slippers and the smells of Shisha will long bring a smile to my face.
My favorite memories of Dubai however will be of all the wonderful people I met. The depth and breadth of world experience amongst the expat community there is phenomenal. I would go back just to hear more of their travel adventure stories… AND their mixed-up accents.
I heard English spoken with Egyptian, Hungarian, Aussie, French, Norwegian, British, Iranian, East Indian, Pakistani, Filipino, Dutch, Spanish and of course, Arabic. More often than not, the accents were combined – eg. Spanish/Dutch, Egyptian/French.
Delightful to say the least.
Special thanks to everyone who made this trip SUCH a wonderful experience – Ernesto, Gautam, Mr. Ram, Elin, Kim, Rosaleen, Barry, James and all the speakers. Let's keep in touch!