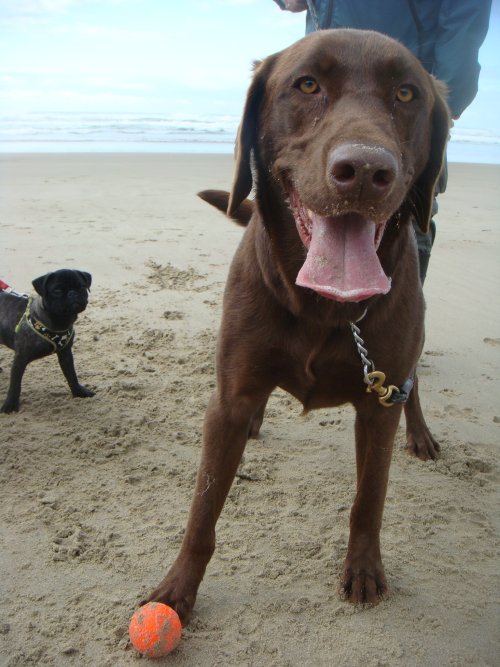 This is a follow up to my The Longest 15 Minutes of My Life post about a walk with Jasper in which he collapsed, presumably due to dehydration / heat exhaustion.
That was a natural assumption, based on the length and temperature of our walk that day.
However, the same thing happened just a couple days later when he had walked for only 10 minutes in cool weather.
In a nutshell, he was wearing a choke collar and was on the leash. He met up with another dog, got REALLY excited and his back legs collapsed from under him.
All in all, this has happened about 5 times during his life. Each and every time, he was wearing a choke collar, been on the leash, met another dog and experienced major excitement.
So, I started to doubt the heat exhaustion theory and recently had my suspicions confirmed by our vet.
Jasper most likely suffers from something called "exercise induced collapse" or IEC, a syndrome of exercise intolerance and collapse that has been recognized in young adult Labrador Retrievers.
According to a study of labs with the disease, "Affected dogs exhibiting symptoms of collapse are usually described as being extremely fit, muscular, prime athletic specimens of their breed with an excitable temperament and lots of drive."
That describes Jasper to a tee.
Because Jasper tends to 'get into' a lot of things – cacti, bad water, etc. – we've had the opportunity to meet quite a few veterinarians during our travels.
Each and every one of them simply marvels at his fitness condition. His weight is perfect, he is muscular, and his heart-rate is that of an uber-athletic dog.
Small wonder.
Ed and I have made a point of exercising / running him almost every single day of his life. Jasper was NOT treat trained. He was trained to respond to playing with a ball, rather than treats. (See The Art of Raising a Puppy
) Therefore, treats really ARE treats. On average, he gets about 2 treats per week… on Thursdays, when Jen, our housekeeper comes.
Jasper's IEC episodes are briefer than those described as typical, i.e. he doesn't drag his legs for any period of time and doesn't take 5 to 20 minutes to recover. He simply collapses and either rights himself or I pull him up and he is fine from that point on.
Jasper seems to suffer most from "Excitement. Dogs that exhibit the symptoms of EIC are most likely to have intense, excitable personalities, and it is apparent that their level of excitement plays a role in inducing the collapse. There are some severely affected dogs who, if they are very excited, do not require much exercise to induce the collapse. Dogs with EIC are most likely to collapse when engaging in activities that they find very exciting or stressful."
Although it is still possible that Jasper suffers from a neuromuscular disorder known as myasthenia gravis, we will wait and test for that later.
In the meantime, we hoping that as in the case of other dogs with exercise induced collapse, his condition will just disappear over time.
In the meantime, please cross your fingers for our boy, Jasper. 🙂
Please visit Just Labradors to learn more about exercise induced collapse.