Ed and I are THRILLED and SO grateful to have Jasper, the Chocolate Labrador, back home today.
Yesterday, however, was hellacious.
At 10AM, we left him at Central Valley Veterinary Hospital in Kelowna for surgery to remove a sarcoma on his right foot.
The doc wasn't sure whether he could remove the sarcoma by removing one toe or two, or whether he'd have to dig into Jasper's footpad, because the sarcoma was so big.
Removing two toes is bad. Removing part of the footpad is worse, especially on a front leg.
We were told that his surgery would be in the morning and that we'd get a call from the vet about how things went in the afternoon.
Not having heard a word by 4:30, we were both almost frantic, so I phoned the vet's office. Turned out that Jasper hadn't yet been operated on, and I was told that he was just about to go into surgery.
The doc didn't call until almost 8PM.
You can imagine what was going through both our minds in those intervening hours. NOT good. Especially NOT good in light of everything else going on in our lives at the moment.
Anyway… Jasper's surgery went VERY well with only one toe having to be removed. Apparently, the reconstruction went well too. We won't know about that until his bandages come off, maybe in two weeks.
Granted, that's exactly the time that I go in for my first cancer surgery, so now we're hoping to find someone to REALLY care for Jasper in our absence.
Nothing like adding worry to worry.
Makes life SO interesting!!
BTW, the 'Under Construction' Elizabethan cone was a nice touch.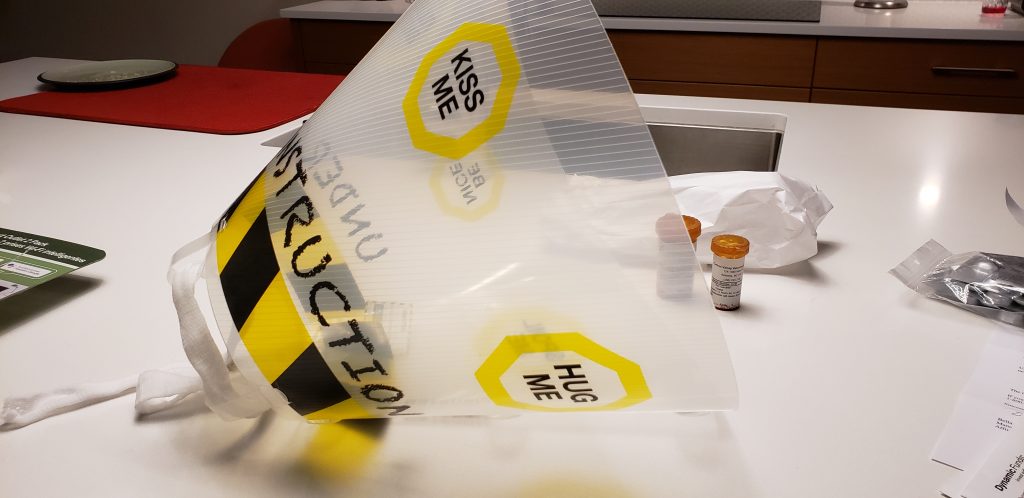 Cheers,
Ros