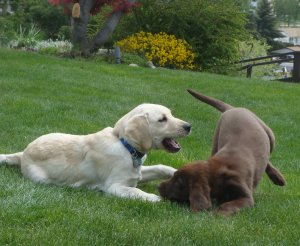 Jasper, our 3 month old chocolate labrador retriever puppy had his first play date today with Harley, a 4.5 month old yellow lab puppy.
Fun was had by all.
The dogs ran, frolicked, nipped at each other, played with a rope toy and but for the fact that Harley lost a wisker (I felt SO bad), no one was seriously injured.
We owners, Grace (Harley's mom) and Ed and I could barely contain ourselves for laughing at their puppy antics.
Seriously, what could bring one faster back to earth and in the here and now than watching a couple of puppies at play? It was awesome!
Here's a video of when they first met:
And here's another video of the Labrador Puppies with a Rope Toy .