Powerful thunderstorms intermittently pounded Tucson throughout the day yesterday and last night.
At Catalina State Park, we had our satellite dish set up as usual – with the tripod legs pounded into the ground and weighted down with gallon jugs of water.
The precautions were insufficient to withstand the gusty wind conditions and the satellite dish – which provides us with both TV and Internet services – blew over and broke off at the base of the dish.
This has happened before, once during a full-fledged November gale at Cape Lookout State Park in Oregon.
During the previous occurrences, Ed has managed to fix to the dish and restore service.
Sadly, that wasn't to be the case this time.
The dish is irreparable. Here are the remains…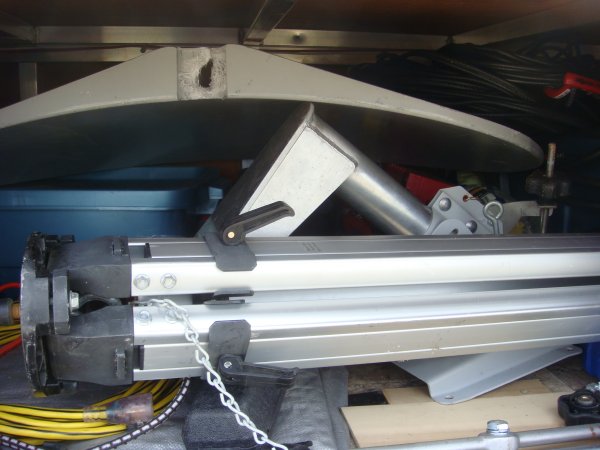 So… after Ed collected and stowed the debris, we hurried out to pick up a 4G Hotspot to restore our Internet connection. Goodness knows I feel naked without one… and that's not a pretty prospect. 🙂
Best Buy was out of stock so we picked up a T-Mobile version at Walmart.
On returning to our RV, the smell of propane was immediately evident on opening the door.
During our absence, Jasper had jumped up on the counter to wash the dishes — as he has been known to do in the past. On the way to the sink, he managed to turn on the gas for the propane stove.
Fortunately, the gas concentration wasn't sufficient to be harmful ONLY because the tank was almost empty.
This was OUR VERY lucky day, 'cause I'd be a complete basketcase if we had killed our beloved dog.
In future we will remove the knobs on the stove before leaving Jasper alone in the trailer… and so very grateful that we didn't learn THAT lesson the very hard way.