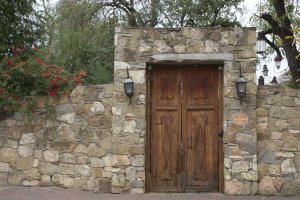 After spending 4 days at Lake Casa Blanca International State Park in Laredo, Texas, and visiting only the nearby grocery stores and movie theaters, we finally decided to venture into the downtown core and catch our first glimpse of the Rio Grande.
Cool.
If you didn't know where you were, you might guess that you were in Mexico.
Many, if not most, of the store keepers that we chatted with, spoke little or no English. Not a problem… I can usually make myself understood with my really bad Spanglish – and I really do enjoy practicing. 🙂
The sidewalks are totally reminiscent of Mexican towns – lumpy and completely broken up in places. NOT good if you are disabled or in a wheelchair.
Many of the stores sell typical Mexican / Spanish chachkas, i.e. brightly colored artificial floral arrangements and Jesus candles.
I particularly like the way they display pants … facing the bums towards the window. 🙂
We found the 'Vogue' store, which was originally a Woolworth's store that still had the original door handles from Woolworth's. That was quite the throwback.
Other than women coming back from early morning shopping forays, we didn't see too many people actually walking … most people were standing or sitting around, apparently waiting for something or someone.
We had Jasper with us for awhile and he was a real hit. Many people asked us what kind of dog he was and others just smiled, pointed and commented on the 'pero'. Strange that I didn't see one other dog the whole time we were there.
We actually did see the Rio Grande – which I didn't think was so 'grande' at that point in the river.
What was a little weird was the fact that we had to be 'buzzed' in to visit the Visitor's Center. Not very welcoming and if we hadn't already been tripping around town for quite some time – that might have convinced us that we weren't really keen to do so.
After leaving downtown we headed up to the Mall de Norte and felt like we were in a different world completely. Or, maybe not so different – the Macy's there doesn't carry the high-end (or even middle-end) brands that I would expect to see at any other Macy's.
Too, Ed said his Kung Pao chicken resonated Mexican in flavor. LOL.
Ergo, when in Laredo – go for the Mexican food.