Ed and I tripped over to Tijuana Mexico the other day.
Instead of walking across the border and taking a cab downtown as originally planned, we took the MexiCoach shuttle bus from the border parking lot. Two return tickets were $10 and would prove the best deal of the day.
Our little sojourn across the line was fun.
We enjoyed a guitar serenade of Cieto Lindo while sipping coffee and munching chips with real salsa at an outdoor cafe. Later, we had a delicious lunch of fish tacos and Mexican beverages (Tecate for me, Margarita for Ed). I also downed a big cup of pomegranate seeds from a food cart on the street. At 2 bucks, I'm quite sure I paid much more for those than the locals ever would, but considering whole pomegranates at home are 2 bucks — that was a great deal.
The strangest thing we saw were 'zebra burros' (see pic below). Their owners take and sell pictures of tourists' kids wearing a Mexican hat while sitting on the burro.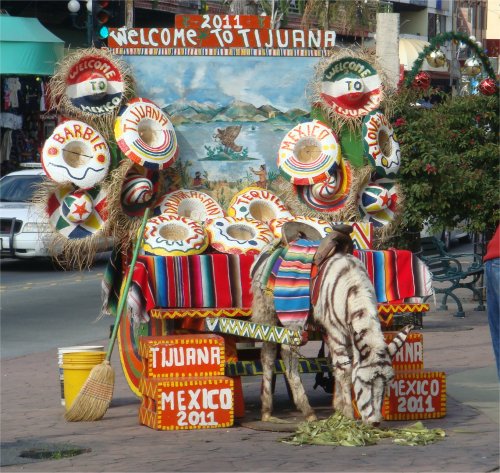 We managed to pass that one up, but got caught by a vendor who threw the hats on our heads, blankets over our shoulders and insisted on using our camera to take a picture. How embarrassing!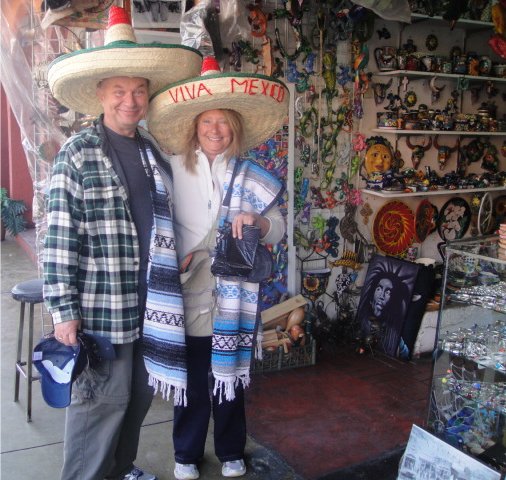 I fell for the overly charming souvenir vendors and bought a nice embroidered shirt, silver bracelet, a couple of Tijuana ball caps and postcards. Love how the bracelet started at $45 and somehow ended up being $10 – with a buck tip thrown in for the salesperson's tequila. 🙂
By mid-afternoon we were ready to head home, so we caught the MexiCoach on Revolucion. Driving back to the border we were astounded by the long vehicle and pedestrian lineups — Turns out that the wait for pedestrians was 3.5 hours!
By contrast, we sat and waited in the Mexicoach for just over an hour, leaving only for 10 minutes to go through customs.
What a great deal!