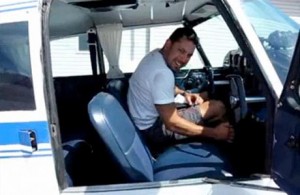 After watching Canadian Search and Rescue Buffaloes do search patterns over the valley for days, we finally learned today that the missing PA-24 with 4 souls aboard has been found on or near Apex mountain.
It is unclear yet as to whether the airplane had mechanical problems or whether it simply couldn't reach sufficient altitude to scale the mountain — a 'boxed canyon' in aviation terms — which is clearly depicted in all the aviation charts, bulletins and reports.
The TSB has not yet decided whether or not to launch a full scale investigation of the accident.
Meanwhile news reports continue to file in including this one from the Vancouver Sun.
VICTORIA — The eight-day search for a plane that went missing en route to Victoria ended Wednesday with the discovery of wreckage on a mountainside a short distance from Penticton.

All four men aboard the plane, piloted by Victoria High School graduate Rama Tello, died in the crash. No names were released by the RCMP pending notification of next of kin.

The crashed Piper PA24 Comanche was located about a 10-minute helicopter flight from Penticton, said Bill Yearwood, manager of air investigations with the Transportation Safety Board of Canada.

The exact location of the wreckage was unclear Wednesday afternoon due to conflicting information, Yearwood said.

"I'm waiting for the RCMP to give me an exact location — they're on site but they're having trouble with communications," said Yearwood.

First reports said the crash was south of the Apex Mountain peak, but Yearwood said he had information the site was on a different mountain.

TSB investigators will document the crash site and assist the RCMP and coroner in their investigations, said Yearwood, who hasn't decided if the TSB will do a full investigation.

"It's still too early to come to any focus at this point," he said. "Whether we do a full investigation will be determined in the next few days."

The plane's emergency locator transmitter was not functioning, said Yearwood. The older type of transmitter on board the aircraft operates on a frequency that's no longer picked up by satellites but can be heard by other aircraft flying overhead that are tuned to that frequency.

Tello, a Kelowna businessman, was headed to Victoria on Aug. 17 with three passengers — his brother and two friends — when something went wrong. They took off from Kelowna and landed briefly in Penticton before taking off at 5 p.m. for Victoria.

The plane never reached Vancouver air space, however, and a search began along the corridor between Penticton and Chilliwack. Two Cormorant helicopters, three Buffalo and one Aurora aircraft from 19 Wing Comox took part, assisted by a Hercules from 17 Wing Winnipeg and 15 civilian aircraft that are part of the Civilian Air Search and Rescue Association.

The search covered 18,000 square kilometres over land and water.

While weather was favourable — sunny and clear — at the time of the crash, smoke from B.C. wildfires was drifting through the area.

The mountains west of Penticton pose a challenge for pilots and there are warnings for those flying to the coast to ensure they gain enough altitude before heading west.

Read more: http://www.vancouversun.com/four+passengers+missing+plane+found+dead/3442502/story.html#ixzz0xlfovmPZ
It will be interesting to learn more details about this crash.