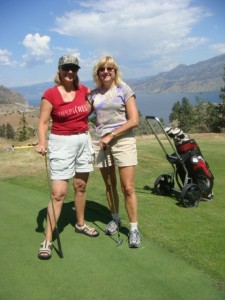 Hmm… what can I say?
I only made it through 20 days of my first 30-day challenge, which was to give up high-calorie beverages such as wine, beer, orange juice, hot chocolate and the like.
Let me blame it on Evelyn Grazini (ex-Affiliate Classroom/Lurn) for a moment at least.
Evelyn showed up for a 4-day visit knowing that I like beer – ales, to be specific. So, she stopped at a Costco enroute from Seattle and made best use of that facility by purchasing a medley of Kirkland brands for my enjoyment.
I'd forgotten to mention that I wasn't doing beer for the month of July.
So, what was I to do? Insult my friend by rejecting her thoughtful gift? Or give up the 30-day challenge and imbibe without regret?
I chose the latter and we had a ton of fun. 🙂
Evelyn was an absolute star on the golf course – her very 1st kick at golfing. In addition to golfing, we did a wine tour, went sailing, went to the theatre and sat and chatted by the pool for hours.
Am I sorry?
No!
Will I try again?
Yes!
I managed to lose 4 pounds in those 1st 20 days, which was enough to convince me that beer doesn't exactly help the profile.
But will I plan another beer-free summer?
Unlikely!! 🙂