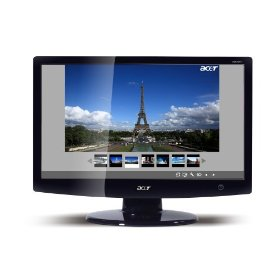 It was early Sunday afternoon, and I was in the midst of an intense content-producing session for AffiliateBloggerPro when my monitor suddenly just went black.
You can imagine the immediate and intense fear that races through an internet marketer's heart during such an occurrence.
Always hoping for the best (in this case that it was a temporary monitor glitch), I simply turned the monitor off and then on.
Eureka!
It came back… for about a second.
Fortunately, Ed runs a 2-monitor setup, so I claimed one of his to test my own. Plugged in in and Eureka! again.
It worked.
So, why did I cheer?
Well, first of all, the fix couldn't have been easier, unlike a hard-drive crash or other catastrophic event. I just had to go into town and grab another.
Secondly, the old monitor was a 19″ Samsung that wasn't working as well for me as when I bought it 6 years ago. OK, not that IT wasn't working — my eyes aren't working as well. See proof here.
Because I'm not a wasteful person, I would have worked with that monitor until it died, glasses and all. OK, NOT the headgear in that other post, but regular reading glasses.
So now I have a lovely BRIGHT 24″ Acer monitor that I can actually see without glasses.
Hurray!
Not so much Hurray at the fact that I could have purchased it cheaper on Amazon, but that's the price we pay for small town living…. gladly.
YOU can get the Acer 24-Inch Widescreen Monitor cheaper though. 🙂