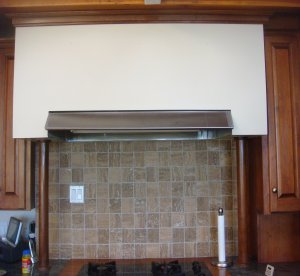 In May 2011 I entered into a contract with Nufloors Penticton to replace my kitchen backsplash.
Unfortunately, the result is a total horror show.
I ordered a cream / taupe travertine tile that matched the kitchen paint colour almost exactly.
At NO point was I ever told that the colour of the backsplash would turn out to be a colour completely different than the one I selected.
Unfortunately however, the backsplash ended up a TOTALLY different colour — orange / brown instead of the cream / taupe that I selected.
NOTE: After having $6000.00 worth of carpet installation done by Nuflooors Penticton in my living room, I trusted that they would do a reasonable job and prt of the agreement (verbal) was that they would fix that part of the carpeting that had come lose on the stairway (see picture).
>
Furthermore, the backsplash stone had striations in it, which were NOT visible in the sample I had selected. The grout used to fill in the spaces made the striations all too evident, especially since the grout was supposed to MATCH the tile colour.
AND, the installer left a bunch of grout crap on the kitchen floor – MOST of which I and my cleaning lady were able to remove, except for one BIG chunk.
After trying to live with and accept the colour for a couple of weeks, I went to Nufloors Penticton and spoke with Scott, the salesman who originally sold me the product and told him about the predicament. He said he would get back to me and that someone would come out to inspect the work in the kitchen.
After waiting more than a month for someone to show up from Nufloors, I called again. The Nufloors rep with whom I spoke asked whether I'd signed their 'standard' form, acknowledging that I understood that natural stone could basically turn any colour.
I said "NO", I hadn't signed that, and if I'd known that, I wouldn't have selected the product.
I was then told that someone would get back in touch with me.
After calling AGAIN, one of their reps FINALLY showed up in August to inspect the problem and AGREED that the colour wasn't what I had selected and promised that someone would get in touch with me regarding a solution.
Again, I waited weeks for a response from Nufloors Penticton and heard NOTHING back.
In early August, I called again and asked how they planned to resolve the issue. Again, they reiteratetd that standard line that travertine will turn whatever colour it chooses.
I emphasised that I'd NOT signed their standard agreement and that the ONLY solutions would be to fix the problem with the colour I'd initially chosen OR to refund my money.
Up until that point, I'd been holding back on the remaining $1000.00 of payment, until the situation was rectified.

I assumed (incorrectly) that they would be willing to deal in good faith.
WRONG!!!!!
About a week later, I received a nasty letter from Brad Woods, the owner of Nufloors Penticton, basically saying that I had AGREED to accept WHATEVER they delivered, regardless of the result…. WRONG!!!!
I debated my response for about a week, until I received a call from a collection agency regarding the outstanding balance.
I called Nufloors Penticton the following day, gave them my credit card number and paid the outstanding balance. I also advised them that their completely unreasonable course of action would hurt their reputation. i.e. don't piss off a customer.
Seriously, how STUPID can a small-town company be?
I ordered a product in good faith. I expected that product to look EXACTLY like what I'd ordered after installation. No one told me different and I did NOT sign their standard ackowledgment. Despite that, Nufloors Penticton REFUSED to correct the problem and THEN sends my outstanding bill to a collection agency within 90 days of their having completed the installation?
All I can say at this point is that Brad Woods and his cast of characters from Nufloors Penticton are a band of f'n idiots.
Not only did they ruin my kitchen, but they left a big honking glob of grout on my travertine kitchen floor which can not be removed and the living room carpet on the stairs looks like SHIT, because they did NOT fix it as promised.
Furthermore, I am aware that this is NOT the first time they've stiffed a customer OR one of their referers. I know FULL well that they CHEATED a designer friend of mine out of THOUSANDS of dollars of referal fees.
Basically, the solution is simple.
AVOID doing business with Nufloors Penticton — period.