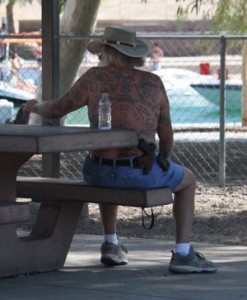 This is one aspect of visiting the United States that I absolutely abhor.
Seriously, what reason could anyone have for bringing a loaded firearm to a dog park – let alone at Lake Havasu in March, which is populated primarily by college students who are just there to have fun and let loose?
Let me backstep a bit.
I didn't even know that this guy was carrying a weapon.
While at the park, I stopped by the table at which he and another lady were sitting and spoke with them about their 'little' dogs… primarily to inquire about their breed types and characteristics as Ed and I want to add another dog to out family that is smaller than our chocolate Labrador, Jasper.
In speaking with him, I sensed nothing (too) much awry, other than he wasn't overtly friendly or forthcoming.
Which would normally be fine.
But on returning to where Ed and my cousins from the Netherlands were sitting at the dog park and having them point out to me that the man was open-carrying a weapon – NOTHING in my mind was 'fine' about this man.
Seriously, WHY would anyone bring a firearm to a dog park at Lake Havasu in March?
Would he kill my dog if it advanced on his tiny mutt?
Would he kill me if I said something he didn't like or agree with?
Who knows?
Laws in the States permit him the 'freedom' to carry a weapon with which to kill me or my dog regardless of what we might say or do.
As a Canadian, my thought remains, "where is my freedom to protect myself from idiots who are so fearful in public spaces that they feel the need to open-carry weapons and could kill me with no justification other than 'I thought she was going to harm me' to kill me".
Seriously, laws pertaining to gun access and use in the U.S. are so weird as to be troubling, especially when contrasted with the 'peaceful' society in which I was born and call home – Canada.
If not for the benevolent climate, we would choose not to spend our winters in the United States for the very reason that their version of 'freedom' according to the NRA's versions of 2nd amendment is completely bogus.
The NRA wants nothing more than to support its industry – gun sales – and NOT the 2nd amendment, which the NRA fully comprehends was never intended to allow ALL the nitwits access to guns – but is more than happy to support that notion because it means much more money in their pockets.
The NRA doesn't give a shit if you, I or our family members are killed in the process.
The NRA's reaction?
Buy MORE guns to 'protect' yourself, (and don't trust local law enforcement to protect you)… 2 ideas which are  bizarre beyond the extreme in more 'civilized' societies which experience 90% LESS gun violence, primarily due to restrictive access to guns and an appreciation for law enforcement.
All that the NRA's mis-interpretation of the 2nd amendment has served to do is kill 10 times as many people every year in U.S. as would be harmed if there were proper legislation in effect to restrict access to firearms.
http://en.wikipedia.org/wiki/Gun_violence_in_the_United_States
Anyway… the old coot can carry what he wants. I would have poked out both his eyes LONG before he had a chance to pull his weapon and shoot my baby, Jasper. (Sadly… so could anyone else who wanted access to his weapon.)
I could go on and on and on… but PLEASE, feel free to leave your comments. Let's have a discussion that informs and improves the situation, i.e. gets RID of a-rated NRA politicians in the U.S.A. who don't give a shit about whether you or I live – just that they survive yet another term.