On Tuesday, May 18th, 2021, at 14:30, Jasper the Chocolate Labrador – my heart, my love, my joy – was released into the Happy Hunting Grounds.
Over several months, Jasper's ability to walk rapidly decreased. He went from walking 4 miles easily in January to really slowing down on a 2-mile walk in mid-February to me having to pull him from doing long walks in early March. Inside the house, he slipped, slid, and occasionally fell on the hardwood for a short while until he learned how to slow his pace down and stay upright. Despite prior vet visits, we only learned this past Friday that his disability and pain were being caused by an aggressive type of cancerous tumor (osteosarcoma) at the top of his femur. Both vets we consulted were SO surprised by this result, suspecting no more than arthritis.
Being told that he would be completely disabled in a matter of a few short weeks, and then having to make the decision to let him go while he still had some quality of life, i.e. still wagging his tail, eager for his meals, and still taking the briefest of walks was excruciating.
Granted, all I needed to remember was a friend who long ago kept her dog for far too long – I will spare you the gruesome details – to know that Ed and I would spare Jasper that indignity.
Jasper had an awesome life. More than a few friends have expressed the desire to come back as my dog. 🙂
Moreover, Jasper gave us LOVE and an awesome life for just over 11 years. Born on February 11th, 2010, Jasper came home on April 8th, I will be forever grateful for having been fortunate enough to be Jasper's Dog Mom.
He truly was the BEST DOG EVER.
You can see my collection of Best of Jasper pictures and watch an assortment of his videos.
He made us laugh, love, and care deeply for something beyond ourselves. He changed our lifestyle completely, making us gladly give up traveling to far-flung destinations in favour of RVing in Canada & the U.S. The 3 of us had such fun together.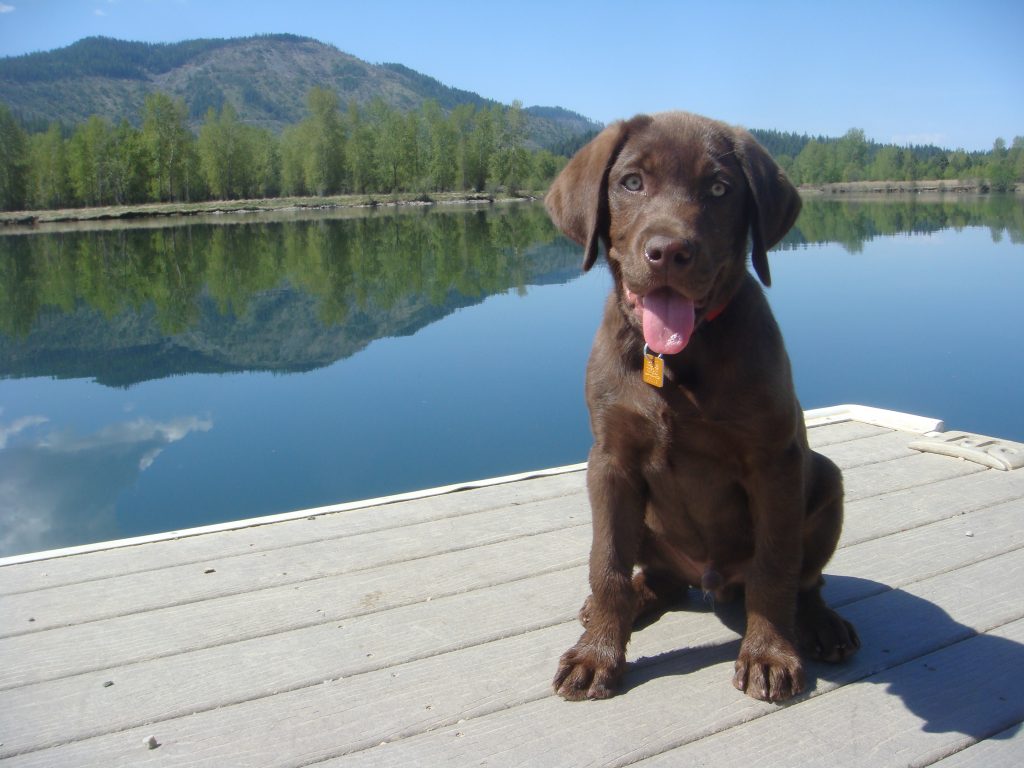 At just 4 months old, we trekked from B.C. to Ontario, via the U.S., to pick up our new trailer in Ohio.
Jasper PEED in each of the 8 motel rooms in which we stayed en route. What's amazing, is that he never peed in our houses or any of our RV's. Oh, but he DID eat Ed's hearing aids, my driving shoes, the back of each and every one of Ed's baseball caps, etc., etc. He didn't pee, but he did crap all over the duvet on my bed one night after eating a bone a 'friend' brought for him. Even more pleasant was that he'd been sick all over the floor of my bedroom at least 9 times before waking me up to witness the duvet incident.
How do you know you love something? They have explosive diarrhea all over your bed and you feel sorry that they are feeling so sick.
Jasper was such a cute puppy. He was SO cute that people came out of the PF Chang's restaurant in Spokane just to see him. We were always being asked if people could take his picture. Granted, it helped that we dressed him up for occasions and holidays.
Jasper has canine and human friends the world over. His first play date was with Harley, the yellow lab, who was just 2 months older than Jasper and came from the same breeder, thanks to my friend Grace, to whom I will always be grateful for the introduction/suggestion. Some of his other canine friends of note included Arlo, Lily, Toby, and Floyd.
Jasper made a living! Just one of Jasper's YouTube videos had over 10 million views from which he was earning about $300US a month.
Update: It's been over 18 months since I started writing this post and was at that time unable to finish it as I was so very sad. Then, in January 2022, we adopted a little girl GoldenDoodle puppy whom we named Nova to ease some of our feelings of loss. Nova is completely different from Jasper. At 11 months old, she remains challenging and always keeps us on our toes. We talk to her about her brother, Jasper, but never tell her that he was most definitely the best dog ever. 🙂