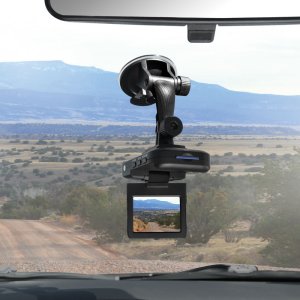 Stop taking pictures with your iPhone while you're driving!
Stay hands-free by using the Roadtrip Video Recorder instead.
This 2.4" LCD screen video camera mounts to your windshield using a suction cup and records video in color at a 640 X 480 resolution.
The lens has a 120º viewing angle, a 8X zoom, and integrated motion detection that automatically initiates recording when the car is moving. The viewfinder rotates 270º, so you can monitor what's being recorded or view stored video.
It'll even record at night and will capture still photographs.
Video is recorded in AVI format and stored on a 2 GB SD card (included). The camera can take a 32 GB SD card that can hold up to three hours of video.
Learn more about the Roadtrip Video Recorder, its battery charger and the cables included at Hammacher.com.