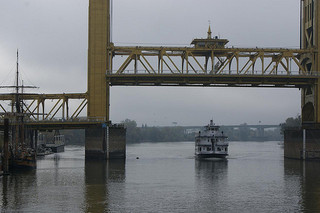 I admit that I knew nothing about Sacramento before making a 2-night stop there back in December.
Like, who knew it was a deep-water port, with a river that runs all the way down to San Francisco Bay and the Pacific Ocean?
OK, maybe you did, but it was a surprise to me.
On that basis alone, it finally made sense why Sacramento became California's capital city, despite the flat terrain and other lack of scenery. (On the scenic front, I would have picked San Fran or Mendocino.)
Despite the scenic deficiencies, we found Sacramento entertaining and historically enchanting during our short stay. I particularly enjoyed Old Town, a 28-acre National Historic Landmark District and State Historic Park located along the Sacramento River.
The district teems with shopping, dining and entertainment venues, including historical attractions and museums, all set in the California Gold Rush gold rush period. Ergo, the architecture was cool.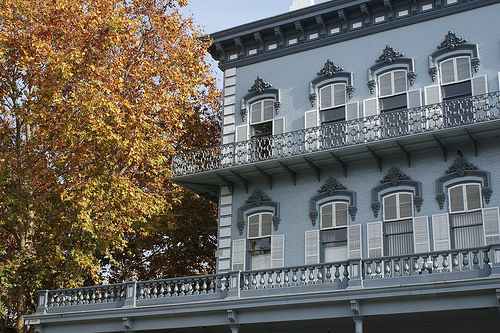 Not to miss is the Delta King riverboat hotel. According to their website, "The authentic riverboat plied the Sacramento River between San Francisco and Sacramento from 1927 to 1940. During World War II it served as a troop transport on San Francisco Bay. After the war the Delta King became a derelict roaming the Delta, without purpose or home. It sank at Richmond in San Francisco Bay in 1982 for a period of 18 months. In 1984 the Delta King was brought to Sacramento where it underwent an extraordinary renovation at a cost of $9 million."
The restoration is beautiful and it's a great place to visit when you want to take a load off and get a drink or something to eat.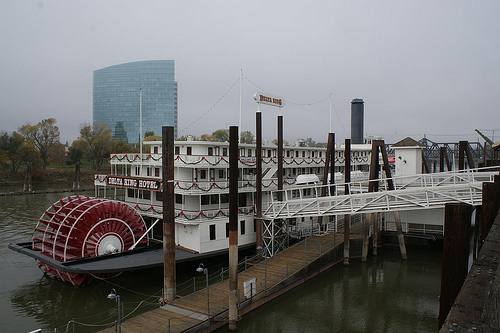 If you visit the stores along just one block, you will know the content of the stores on all the other blocks as well… typical t-shirt and souvenir shops. Perhaps when the economy picks up, more upscale galleries will choose to make Old Sacramento their base of operation.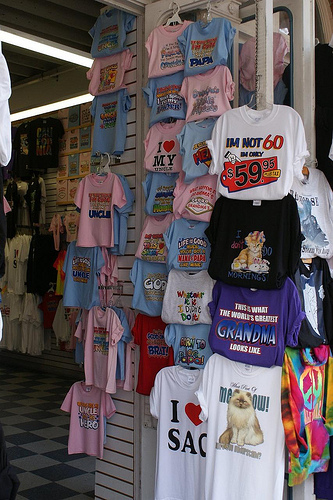 However, if you really want to shop, you can get to the Westfield Downtown Plaza in just minutes via the tunnel that goes under Highway 5 adjacent to Old Sacramento. From there, it's an easy jaunt up to the lovely capitol building.
Our dining experience in Old Sacromento was terrific. Through the flip of a coin, we ended up eating at Ten22 which has a menu developed around local, organic and seasonal ingredients. The food was absolutely excellent. I loved the atmosphere – classy, contemporary and comfortable. And for the piece de resistance… the service was top-notch and for the piece de resistance, it all came at a very reasonable price. Definitely remarkable.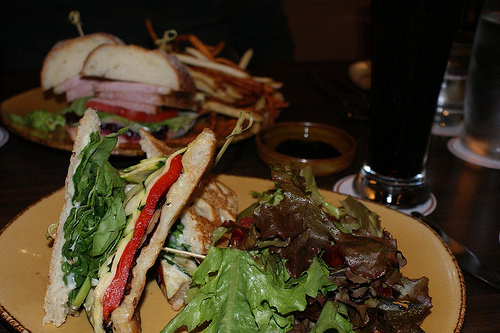 Coolest of all though… was this guy. Old biker, cool bike.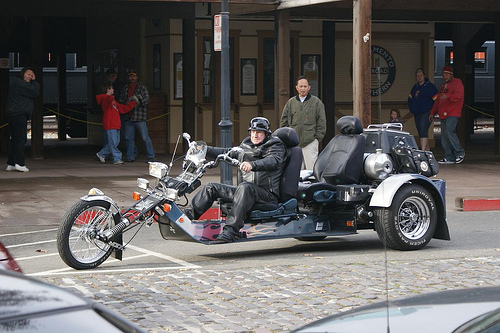 See the rest of my pictures from Old Sacramento here.