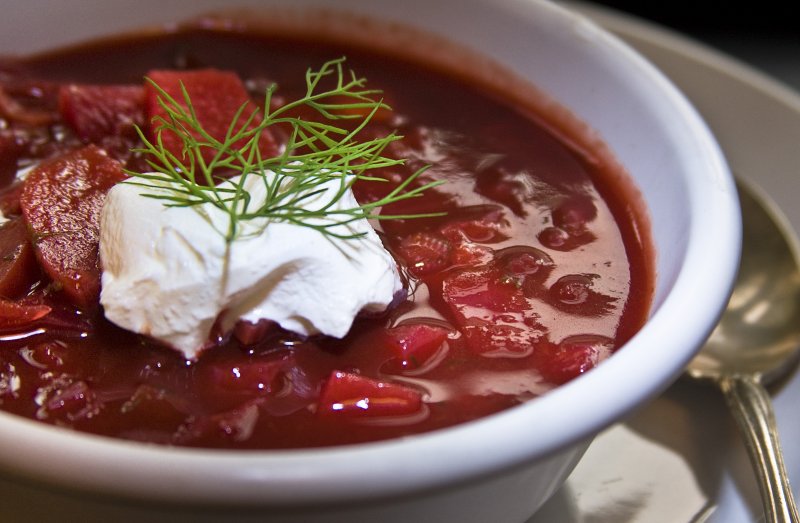 Ed and I both love borscht.
Ed's Dad made it regularly during his childhood. I became familiar with it while I worked as an air traffic controller in Castlegar – heart of the Doukhobor community in south-eastern British Columbia. It was a slow tower, so we'd take breaks away from the work site and one of my favorite breaks was to go into town for a lunch of borscht.
Now that I've started cooking on a regular basis, I'm determined to learn how to make all of our favorites and yesterday I made borscht.
Here's the recipe I used.
5 medium – large red beets, peeled and cubed into bite sized pieces
2 large russet potatoes, peeled and cubed into bite sized pieces
1 medium yellow onion diced
5 cups vegetable broth
3 tablespoons canned tomato paste
1 bag of coleslaw mix (you can also shred your own green or red cabbage)
1 tablespoon red wine vinegar
1 tablespoon of lemon juice
1 teaspoon salt
Optional garnishes:
A dollop of sour cream (or plain Greek yogurt)
A sprig of dill or parsley
Chopped egg
Put beets, potatoes, onions, broth and tomato paste into a slow cooker and cook on high for 4 hours or low for 8 hours.
Add the cabbage, stir well and cook on high for 45 minutes.
Ladle soup into bowls and top with the garnishes of your choice (sour cream, yogurt, dill, parsley, eggs).
Makes 8 servings (or 4 REALLY hearty servings).
Post-eating Notes: Ed liked it so much that he said it tasted just like his Dad's borscht… highest compliment ever! 🙂
The picture is courtesy Wikipedia, 'cause I was too keen to eat to remember to take a picture. But ours looked just like the picture (without the silver spoon). 🙂