The first 10 days of our trip was hellish, but fun — in a freakish kind of way. 🙂
Four days prior to our scheduled November 2nd departure for points south, I came down with a humdinger of a cold and dutifully spent 2 days in bed attempting to ward off a nasty case of bronchitis. Apparently, two days wasn't nearly sufficient rest, as I'm still spewing, hacking and dripping 2 weeks on.  That could explain why half the stuff I planned to bring on our 5-month trip didn't make it into the RV. Oh well, at least it gives me an excuse to go shopping along the way, i.e. the radio-controlled toy helicopter
that I bought this afternoon. 🙂
We spent the first 2 nights in Leavenworth, Washington doing all the things we usually do in Leavenworth – eating goulash soup at Christa's, picking up Christmas ornaments for the RV at the Kris Kringl and laughing hysterically at each other while trying on hats at the Hat Shop.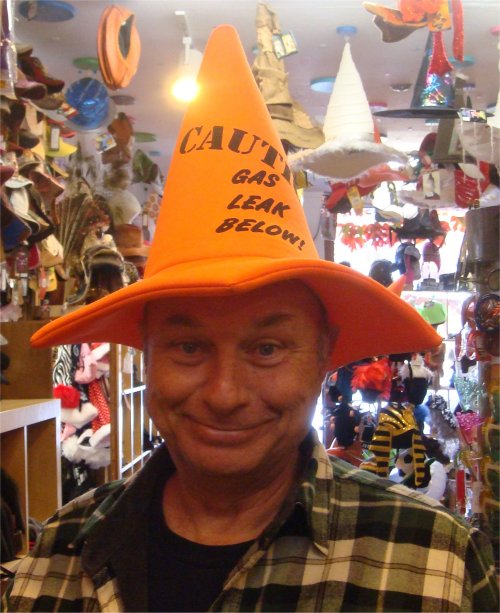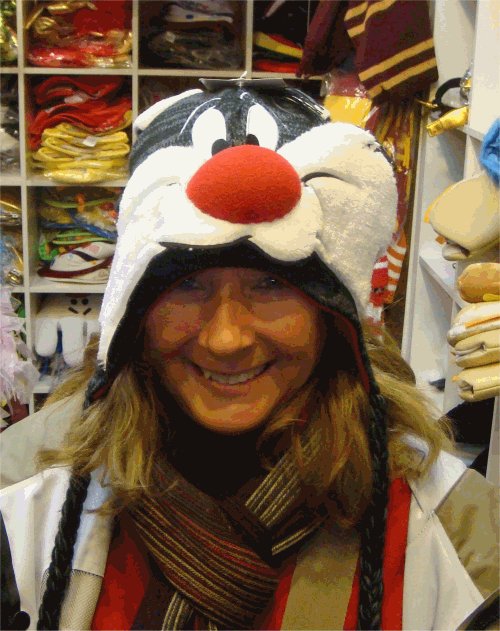 While there we picked up and played Super Scrabble
. Super indeed — I scored my best ever game with 767 points.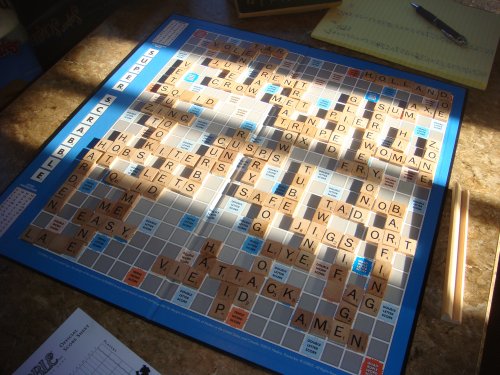 On November 4th, we left Leavenworth and drove nearly 6 hours to Warrenton, Oregon. That was a LONG day for both of us. Ed did all of the driving while I held my sides and tried not to prevent having my ribs blow out from their moorings.
We hunkered down at Fort Stevens State Park outside of Astoria for 2 days, where I consumed copious amounts of chicken soup and herbal tea. Our only foray outside the RV was for a short walk on the beach with Jasper who was in his element, chasing balls in the sand and romping through the waves.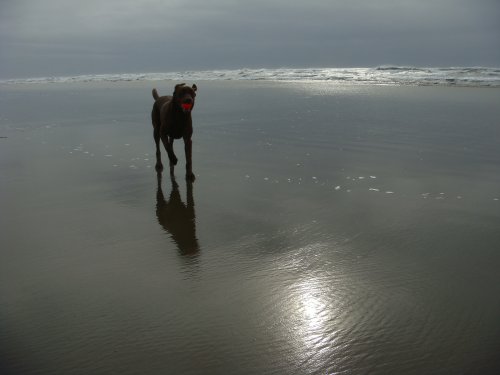 As planned, we left Fort Stevens on November 6th and drove down the coast to my favorite state park in Oregon – Cape Lookout – near Tillamook.
Cape Lookout and all of Tillamook County is SO awesome. The area has it all – ocean, beautiful beaches, mountains, rain forest and green pastures all of which makes for great seafood, dairy products and endless places to hike.
The state park is located on a spit in one of the last remaining old growth rain forest areas. The park is very dog friendly, providing an off-leash area in the winter closed loops. Better yet, most folks run their dogs off-leash on the beach and Jasper has made a whole bunch of new friends since we've been here. At $20 a night, I consider Cape Lookout one of the ultimate resort destinations… especially considering we were lucky to score a spot (D5) where we could hook up the Satellite Dish
and get TV and Internet access. 🙂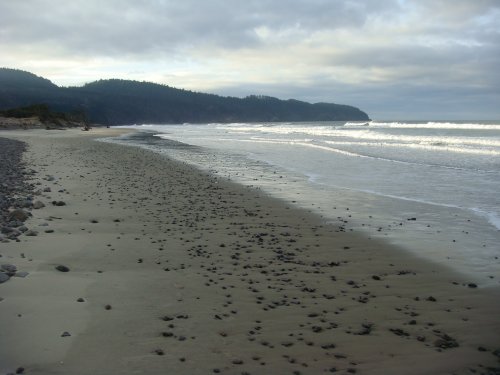 Our days here have been relaxed and easy. The weather for the first week was fabulous – sunny with temperatures up to 16 Celcius.
We walk on the beach or in the forest with Jasper 3 or 4 times a day. There's time for a little bit of work on the Internet, catching up on past seasons of Breaking Bad
, playing board and computer games, doing puzzles, reading books and cooking. We keep up with world happenings by watching Rachel Maddow at 6PM and checking in with CBC Radio on Sirius satellite radio in the morning.
Other campers have knocked on our door more than once, thinking we're Camp Hosts. That might have something to do with our rig setup; replete with satellite dish and a string of blinking star lights hanging in the trees at our site.
The only downside since we've been here was that Jasper got really sick one day.
He was lethargic, wouldn't even look at a cookie or drink water. I got pretty freaked out… a lab that won't eat is REAL cause for concern. Not only that, but he was drooling constantly, a sure sign that he was nauseous. We ended up driving 30 miles after dark on twisted roads to Cloverdale, the only 24-hour veterinary service in the area. He was running a fever of 104. One charcoal infusion, 3 needles, a subcutaneous IV hydration, a bath, 3 hours and $250 later, we took our sad boy back home. I got NO sleep that night, checking every 10 minutes or so to make sure that he was still breathing.
He made it through the night – a good thing considering everything we do, everywhere we go or stay has him factored into the mix. I couldn't fathom what I'd do without 'my boy'.
The problem? Who knows… probably a bad case of garbage gut combined with a tummy full of sand.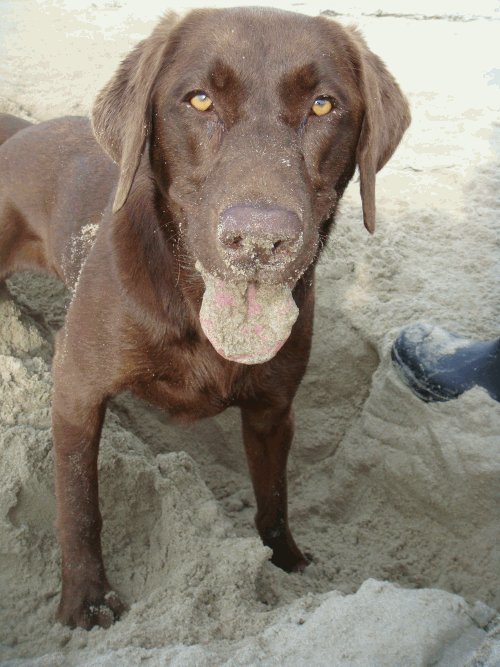 The next day, I finally decided to visit the local medical clinic to procure some drugs for my lingering cold/bronchitis. They seem to be working, i.e. my tastebuds recovered sufficiently to warrant a trip to Pirate's Cove in Garibaldi for some of their fabulous clam chowder.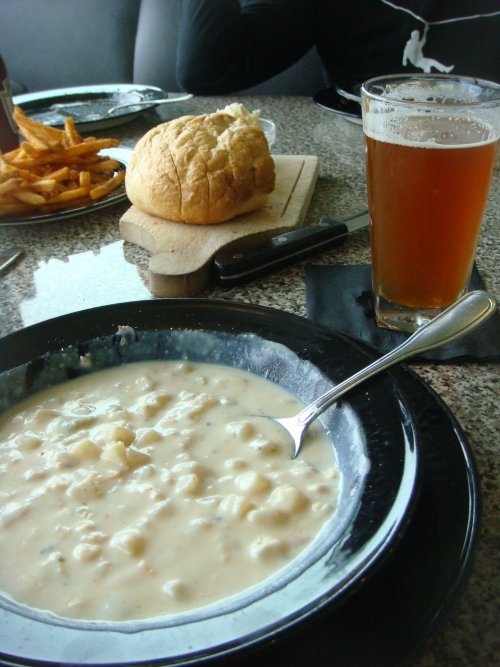 Now that Jasper and I are both on the mend, the weather has turned stormy, so we're relegated to the RV where Ed is watching the Leafs lose to the Senators and Jasper is trying to eat my new toy helicopter when it crashes to the floor.
Ergo, life is good.
More pictures from the trip are here.
Although we have no set agenda, here is out proposed southbound routing for this winter.