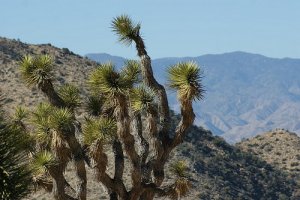 After spending 10 days cooped up in a commercial RV park in Desert Hot Springs, I was very keen to get to Joshua Tree National Park and be in the wide open spaces again.
Well, as it turned out, the sites at the Black Rock campground in Joshua Tree National Park aren't exactly 'wide open'.
The park roads are narrow and entrances to the sites are generally bordered by Joshua trees, making even a pull-through spot difficult to access, especially with a bigger rig.
I scoped out the best route into our reserved space and shared the plan with Ed, who elected to park the rig for once — only because it wasn't a back-in — Ed doesn't 'do' back-ins.
Well, as it turns out, he doesn't do pull-throughs either.
Although he managed to navigate the entrance gauntlet without incident, he tried to put the rig on the left side of a big tree in the site, as opposed to the right side as I'd explained. (It helps when you position the RV so that things such as slides and awnings have room to open.)
In pulling the rig to the left, Ed also failed to notice that the lowest branch on that side was too low to clear, and despite my leaping and yelling protestations, he pushed ahead.
The branch broke off completely, but not until it had taken out one of our navigation lights and ripped up the RV's roof membrane.
The latter two were easy enough fixes, but you can't repair a severed branch.
The poor thing lay there dying for the 10 days we stayed, a clear reminder of the error.
Sorry Joshua – I would have heeded the "All vegetation in the park is protected" rule, and the next time we visit, I'll do the driving. Then again, it would be nice if some of the vegetation in the campground was trimmed out for the bigger rigs, even just a little. 🙂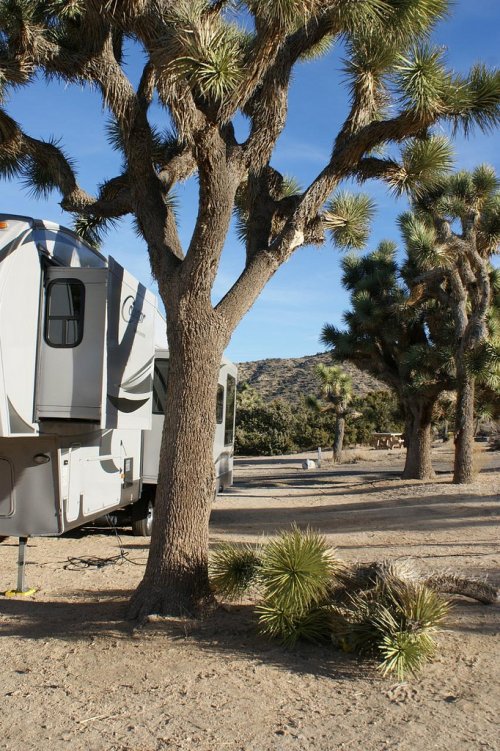 Here are some of our other pictures from Joshua Tree National Park.