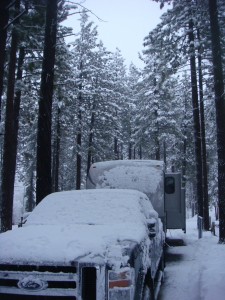 We deserved this.
I arranged our arrival into South Lake Tahoe shortly after the "chains required" warnings were lifted and totally lucked out daring the SR207 shortcut (summit at over 7,300 feet). The ascent at 45 mph was easy, but the 35 mph descent into South Lake Tahoe on wet roads and dragging 35′ of trailer was just a wee bit challenging, considering it was hard to maintain the speed without some occasional heavy braking.
The first question I asked after getting to our camp at the Zephyr Cover Resort was "what's the forecast?". And according to our camp host's response – it hadn't changed. Rain, snow and a combination of the 2 for the next couple of days.
It sometimes helps to travel with someone who doesn't purvey maps or weather forecasts in advance. Ed finally figured that two nights was starting to look like 3, if not 4.
Grin. REALLY? Too bad!
We enjoyed a wonderful afternoon in town, including the buffet at Harrahs. The next morning was partly cloudly, which made for an excellent walk on the beach with Jasper who went for a swim in Lake Tahoe, played on the beach AND in the snow.
Later in the day I got all my laundry and cleaning done.
And now I'm sitting here in my trailer office watching a light snow fall on the big heaps of snow outside. What a GREAT excuse to get some writing work done and enjoy some cooler temperatures after 4 days in Death Valley.
Sounds like movie night! Yeah!