I found driving through the Texas panhandle (the northwestern region) pretty depressing.
It's flat, dry (uber-dry having suffered from years of drought) and loaded with economic bust-towns.
Drive long enough however and you'll find the Palo Duro Canyon surprise.
On entering Palo Duro Canyon State Park you drop 800 feet into the canyon and the scenery is absolutely beautiful.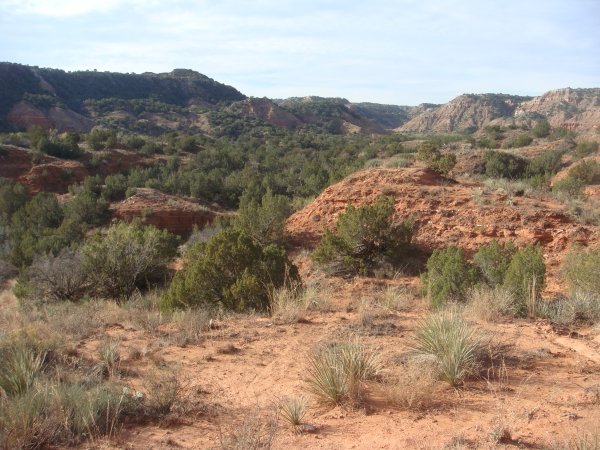 Ed and I did the Lighthouse trail, a 6 mile round trip, there-and-back route which was just lovely. The Lighthouse trail refers to the Lighthouse geological structure found at the end of the trail. It is a stone pillar structure that is distinct enough to be the emblem of Palo Duro State Park.
The trail description reads the difficulty as 'moderate'. Despite the rolling hills, Ed and I, 62 and 52 respectively found the trail 'easy' on an autumn day with the temperature around 68.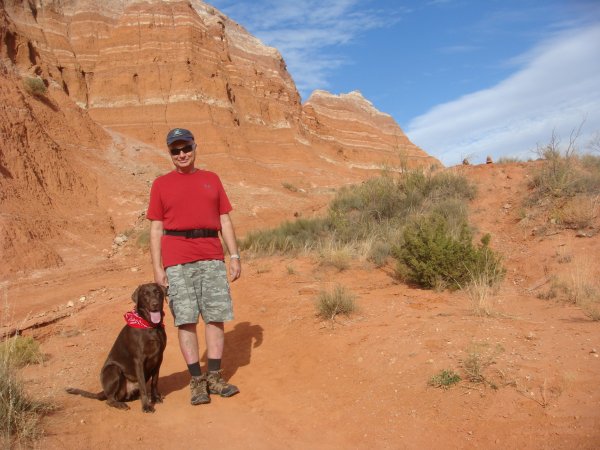 Early Spanish Explorers are believed to have discovered the area and dubbed the canyon "Palo Duro" which is Spanish for "hard wood" in reference to the abundant mesquite and juniper trees.
The Canyon is 120 miles long, as much as 20 miles wide, and has a maximum depth of more than 800 feet. Its elevation at the rim is 3,500 feet above sea level. It is often claimed that Palo Duro Canyon is the second largest canyon in the United States. The largest, the Grand Canyon, is 277 miles long, 18 miles wide, and 6,000 ft. deep.
We camped in the park for 2 nights and during that time were surprised – no, dismayed – to see idiots chasing and trying to feed the white tail deer. They obviously have no clue what damage a stray hoof can do.
The other idiocy was seeing a teeny tiny dog left alone on a leash at the campsite while the owners left to go hiking – despite the fact that every camper is warned about the bobcat in the Hackberry camp loop. Moreover, our neighbours across the way showed us pictures of that bobcat in their site as they arrived. I'm just glad that poor little pup survived their owners idiocy for another day.